Spinach and Artichoke Christmas Tree Twists
Spinach and Artichoke Christmas Tree Twists recipe. This is inspired by the bakery favourite of cheese and bacon turnovers. The best ever flavour combination for a dip, spinach and artichoke, is then combined into puff pastry twists and shaped into a Christmas Tree. The perfect Christmas party dish for a Christmas day starter, New Year's Eve party or simply to serve with a festive tipple. If you love the spinach and artichoke combination as much as I do, then also try it in the recipe for Spinach and Artichoke Bread Dip. 
The Recipe
Spinach and Artichoke dip is made by mixing together spinach, tinned artichokes, cream cheese, sour cream, two types of cheese and garlic. Bound together in a pan with lots of butter until melted and gooey, it is good enough to eat on its own with a spoon. The dip is made even better when used as a filled for buttery puff pastry twists. This recipe is easy and the trickiest part is shaping the tree. There are photos in the recipe of the best way to shape the tree to get twisty branches off the tree filled with yummy spinach and artichoke. 
Change the Filling
This method of making puff pastry twists into a Christmas Tree can easily be used with different fillings:
Cranberry sauce and brie
Tuna and mayonnaise
Coronation Chicken 
Spinach and Feta
Cheese and Bacon
Get in Touch
If you have a query about any of the recipes on Documenting My Dinner, contact me at kerry@documentingmydinner.com or via Instagram. I'd also love to hear from any local producers and companies selling interesting ingredients that want to work together. 
Other Christmas Recipes To Try: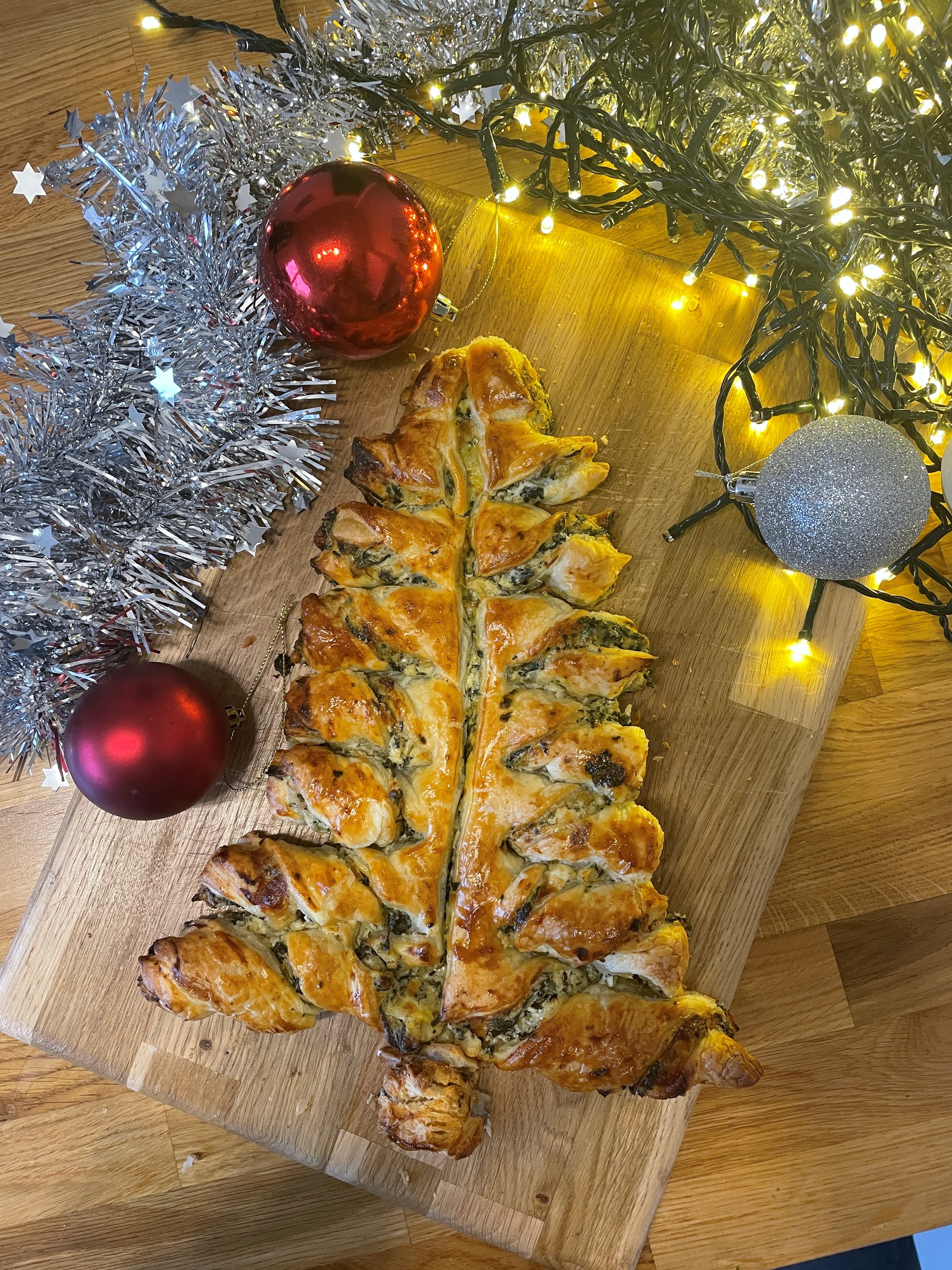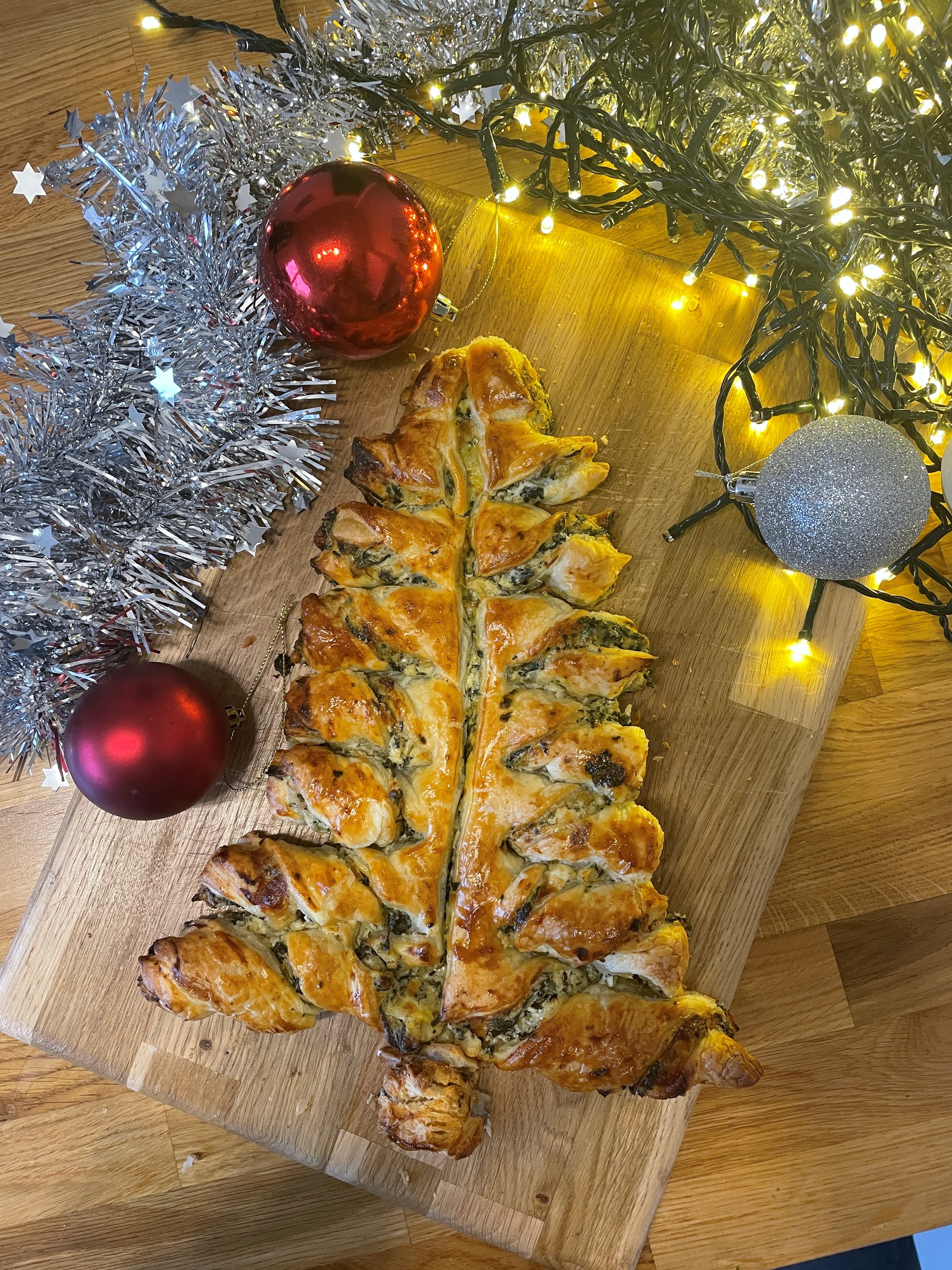 Spinach and Artichoke Christmas Tree Twists
Puff Pastry Twists filled with a creamy spinach and artichoke mix, shaped into a Christmas Tree. Perfect Party Food.
Ingredients  
200

g

Frozen spinach

3

Garlic cloves

crushed

50

g

Butter

300

g

Jar of artichokes

drained

200

g

Cream cheese

100

g

Sour cream

150

g

Grated mozzarella

75

g

Grated parmesan

Black pepper

320

g

Pack Ready Rolled Puff Pastry

1

Egg

Beaten
Instructions 
Defrost the spinach in the microwave on high for 30 seconds – 1 minute. Squeeze all the moisture from the spinach and chop finely.

Add the butter to a large saute pan and allow to melt over a medium heat. Add the garlic and fry for a couple of minutes, but don't allow the garlic to brown.

Roughly chop the artichokes and add them, the chopped spinach and all the other ingredients to the pan with a good grind of black pepper. Mix thoroughly to combine. Allow to cool completely.

Pre-heat the oven to 200C. Remove the pastry from the fridge ten minutes before cooking.

Roll out the pastry. Cut a Christmas Tree shaped triangle from the pastry, length ways, with the point being in the middle of the top edge. This is your base.

You will be left with two triangles from the side. Place them side by side to create an almost identical triangle to go on top of the base.

Spread the cooled spinach and artichoke mixture all over the base (you might not need it all)

Place the second triangle on top of the filling.

Made horizontal cuts from the edge both sides of the pastry tree, leaving a line of un cut 'tree trunk' The cuts should be about two to three inches apart.

Now twist each cut out rectangle to create the branches.

Brush with egg wash and chill in the fridge for 10 minutes.

Bake in the oven for 25-30 minutes until golden brown.