Christmas Turkey Burger recipe. Perfect for the Christmas season, I took inspiration from the best Christmas sandwiches around for this Christmas burger recipe. To make the burgers, I used turkey mince seasoned with sage, onion and garlic. The burgers are then served in a brioche bun with Brussel Sprout and Cranberry Slaw, Gravy, homemade Cranberry Sauce and Brie. I think this Christmas burger is really delicious and much better than any Christmas sandwich I've tasted!
If you liked my Christmas Turkey Burger recipe then check out my other Christmas recipes which include my most popular Christmas recipe, Halloumi in Blankets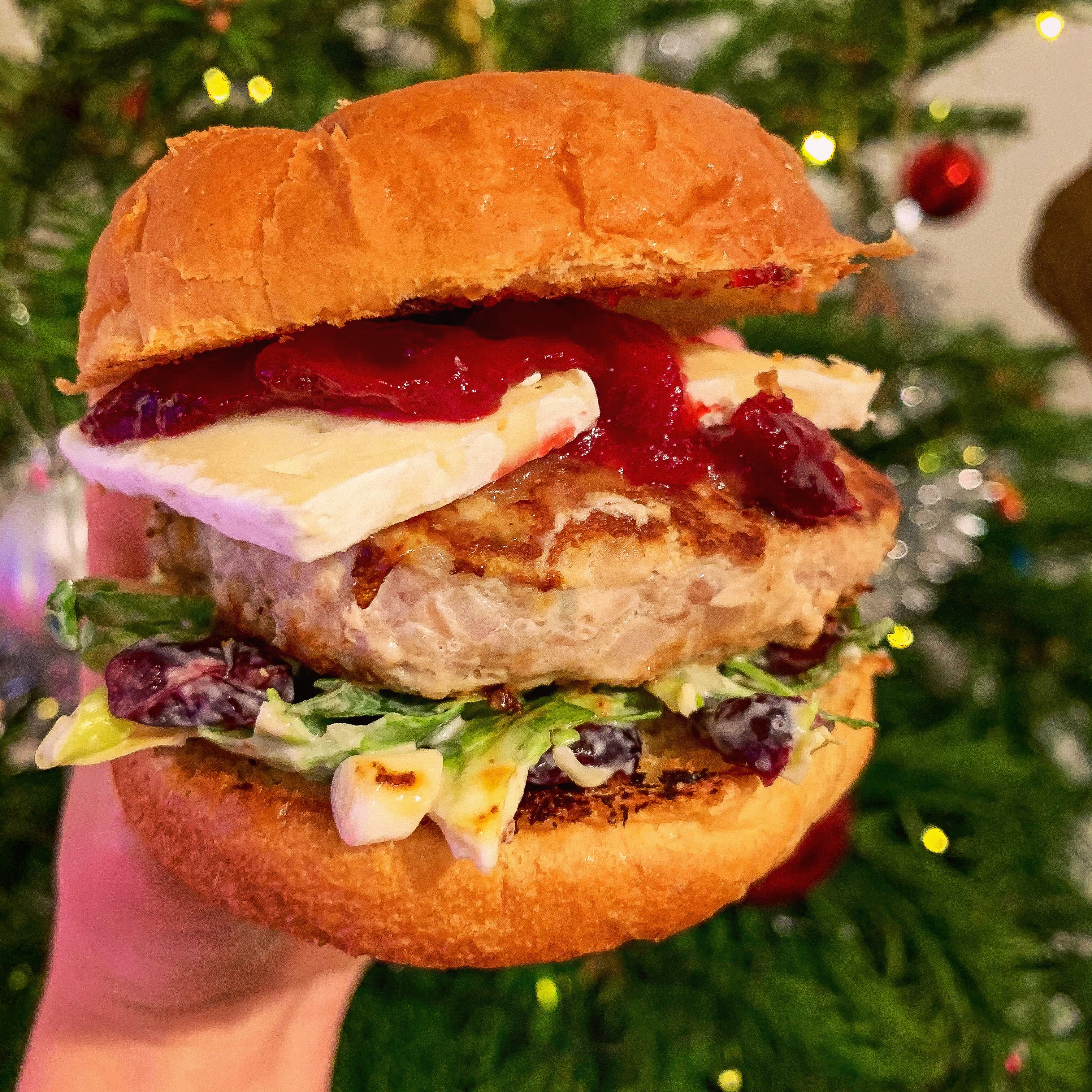 ---
Recipe
Makes 4 burgers
---
Ingredients:
For the Christmas Turkey Burger :
500g Turkey mince (I used 8% fat thigh mince from M&S)
Rasher of bacon, finely chopped
1 shallot, finely chopped
Clove of garlic, finely chopped
Heaped tablespoon of chopped sage leaves
Tablespoon of Worcestershire sauce
1 egg
Heaped tablespoon panko breadcrumbs (or any breadcrumbs you have)
Salt and pepper
For the Brussel Sprout and Cranberry Slaw
50g dried cranberries
About 12 Brussel sprouts
2 spring onions
Half a teaspoon Dijon mustard
Tablespoon each of red wine vinegar, mayonnaise and soured cream
Salt and pepper
For the quick chicken gravy:
Heaped teaspoon each of butter and plain flour
1 small shallot, finely chopped
Port
300ml chicken stock
teaspoon dried thyme, Worcestershire sauce and red wine vinegar
To serve:
4 brioche buns
Cranberry sauce
Brie, thickly sliced
Method:
First make the burgers as they need to chill before cooking. Add all the ingredients and a good grind of salt and pepper to a large mixing bowl. Mix the ingredients together with your hands really well. Shape into four even sized balls and then push down into burger patties. Chill in the fridge for 30 minutes or up to 24 hours.
For the Brussel sprout and cranberry slaw, soak the cranberries in boiling water for five minutes. Meanwhile, very finely shred the Brussel sprouts either using a sharp knife, mandolin or the slicing attachment on a food processor. You want the sprouts to be really thin as larger chunks will be really crunchy. Finely slice the spring onions. Drain the cranberries and add to a bowl with the sprouts and spring onions. Add the remaining ingredients and mix well to combine. Allow to chill for around 30 minutes to soften.
For the quick gravy, fry the shallot over a medium heat in a little butter until soft (around 3 minutes). Add the butter and flour and cook for 3 minutes until beginning to brown and form a roux. Add a good glug of port along with the stock and stir until thickened to your liking. Stir through the vinegar, Worcestershire sauce and dried thyme and keep warm whilst you cook the burgers.
Fry the turkey burgers in a large frying pan with a little butter or olive oil for 4 minutes on each side and then put a lid on the pan and cook for 2 minutes more. The best way to check if these are cooked are with a probe thermometer. The internal temperature should read 165F. Remove the burgers and allow to rest on some foil for a couple of minutes before serving.
Toast the brioche buns in the pan you used to cook the burgers, just until warm and a little golden.
Get the slaw, gravy, cranberry sauce and Brie ready for assembling the Christmas burgers.
Add around 2 heaped tablespoons of the sprout slaw to each bun. Top with a Christmas Turkey Burger, followed by a little gravy, the Brie and finally a teaspoon of cranberry sauce. Enjoy!