Bucatini all'Amatriciana Recipe
Bucatini all'Amatriciana recipe. This quick, simple and delicious pasta recipe is perfect for midweek meals. 
The Recipe
Just like all classic Italian pasta recipes, a good Amatriciana sauce is in the quality of the ingredients. Sourcing high quality ingredients will give you restaurant quality pasta dishes at home. Guanciale is traditionally used, which is cured pig cheek. When compared to bacon or pancetta, Guanciale has a stronger, richer flavour. It adds a real depth of flavour to the dish. Guanciale can be bought online here, but if you can't source it then use a good quality pancetta or streaky bacon instead. By using guanciale,  lots of fat will render out from the cured meat but don't be tempted drain it away because it gives amazing flavour to the dish. The fatty guanciale might be indulgent, but it is a treat.
The Amatriciana sauce is tomato based and using the best quality tinned tomatoes will elevate the dish. San Marzano tomatoes are prized for their sweet flavour. 
For the pasta, Bucatini is the authentic way to serve Amatriciana, with its thick, hollow tubes catching the sauce perfectly, but spaghetti or any other shape will work too. 
Make it Yours
Use onion instead of shallots but note that they may need longer cooking time. 
When tomatoes are ripe in the Summer, use the best quality fresh tomatoes instead of tinned but cook them for 10 minutes longer.
Don't like chilli heat? Then leave out the chilli or reduce by half.
Like all dishes, there is some dispute in Italy as to what should be in Amatriciana pasta. Onions, garlic, chilli and wine are all contested and the dish can be adjusted to the liking of the eater. Serve this pasta recipe as it is, or with a glass of wine and garlic bread for mopping up the delicious sauce.
Get in Touch
Have any queries about this recipe? Get in touch at kerry@documentingmydinner.com or on Instagram.
More Pasta Recipes To Try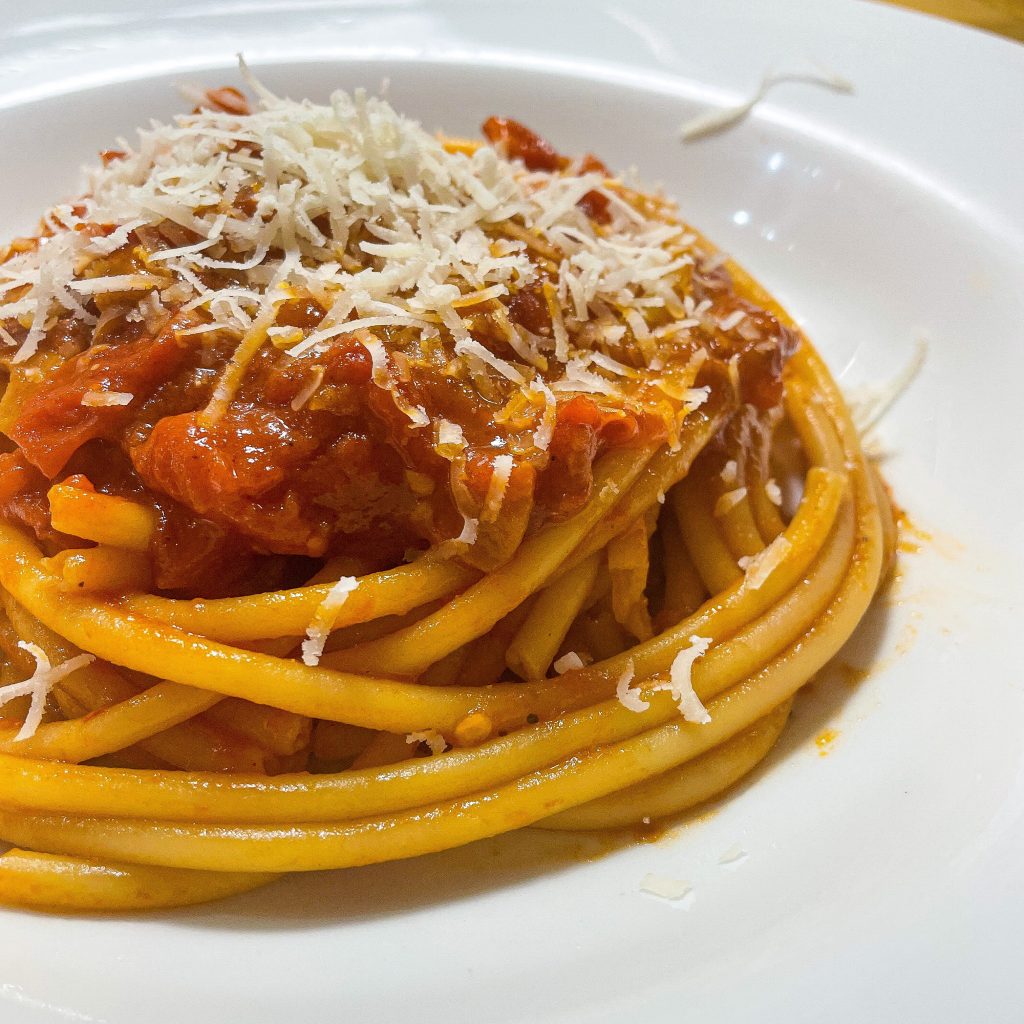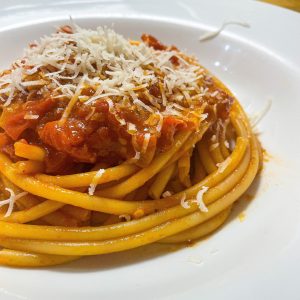 Bucatini all'Amatriciana
A classic Italian pasta recipe for Bucatini all'Amatriciana with guanciale, chilli, garlic, wine and tomatoes.
Ingredients  
120

g

Guanciale

Can also use pancetta or streaky bacon

2

Shallots

Finely diced

5

Garlic cloves

Finely diced

1

tbsp

Chilli flakes

200

ml

White wine

400ml

Tinned tomatoes

150

g

Bucatini

Or other pasta shape

Salt and Pepper

Parmesan or Pecorino, to serve
Instructions 
Slice the guanciale into thin strips and add to a saute pan over a medium heat. Fry for 5 minutes, by which time all of the fat will have rendered from the guanciale. Cook until crisp, for a couple more minutes, or to your liking.

Add the shallots, garlic and chilli flakes and cook for a further minute or two until the shallots and garlic have just softened but not coloured.

Pour in the white wine and simmer until reduced by half, around a minute or two.

Add in the tinned tomatoes and simmer for 10 minutes. Season the sauce with plenty of black pepper and a pinch of salt, remember that the guanciale is salty. Meanwhile, cook the bucatini according to the packet instructions in salted boiling water. You should be able to taste the salt in the water, so add about a tablespoon at least.

When the pasta is cooked, use tongs to transfer the cooked pasta into the sauce. Add a ladle of the pasta cooking water and toss to combine, cooking for a minute or more until silky.

Serve at once topped with some grated Parmesan cheese and a grind of black pepper.