Chicken Shawarma Wraps 
Chicken Shawarma Wraps recipe. Middle Eastern spiced chicken breasts, grilled until charred and served on warm flatbreads with cabbage, garlic yoghurt and chilli sauce. Easy enough to whip up in 30 minutes, healthy and delicious.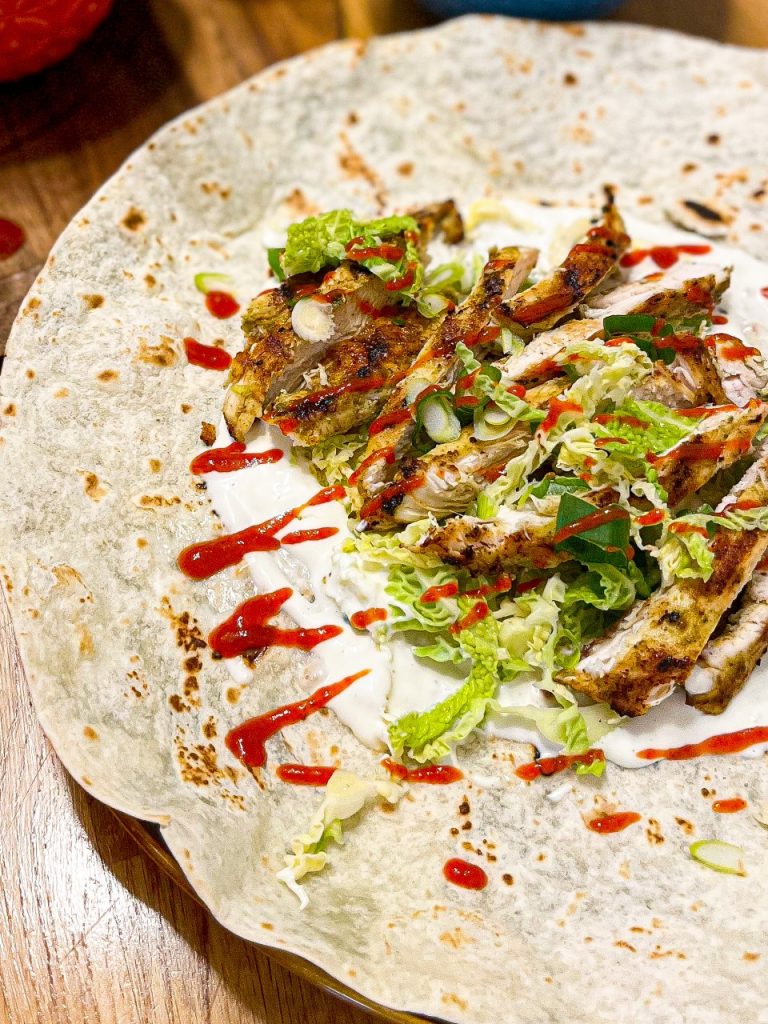 The Recipe – Shawarma
A very easy chicken shawarma wrap recipe. Shawarma is a very popular street food in a lot of Middle Eastern countries. Street food really does serve up some of the best dishes, like my Mexican Chicken Burrito, and these shawarma wraps are no exception. Perfect sharing food, all of the toppings can be put into bowls for guests to customise.
To make the dish, chicken breasts first need to be bashed until they are the same thickness all over. Not only does this ensure even cooking, but it also tenderises the meat. I use this meat tenderiser, but a rolling pin will also do the job. Next, marinate the chicken breasts in a mixture of Middle Eastern inspired spices, lemon and garlic for that classic shawarma flavour. Grilling the chicken in a griddle pan is perfect for that charred marks and BBQ flavour, but grilling the chicken or baking it in an oven also works. Finally, load the cooked chicken breasts into wraps with pickled cabbage, garlic yoghurt, sliced spring onions and chilli sauce – this is my favourite Sriracha Sauce.  Alternatively the grilled chicken can be served in a bowl with rice instead of the wraps. 
Get in Touch
Have questions about this recipe? Wish to work together? Get in touch with me at kerry@documentingmydinner.com
Other Recipes to Try if you liked this Chicken Shawarma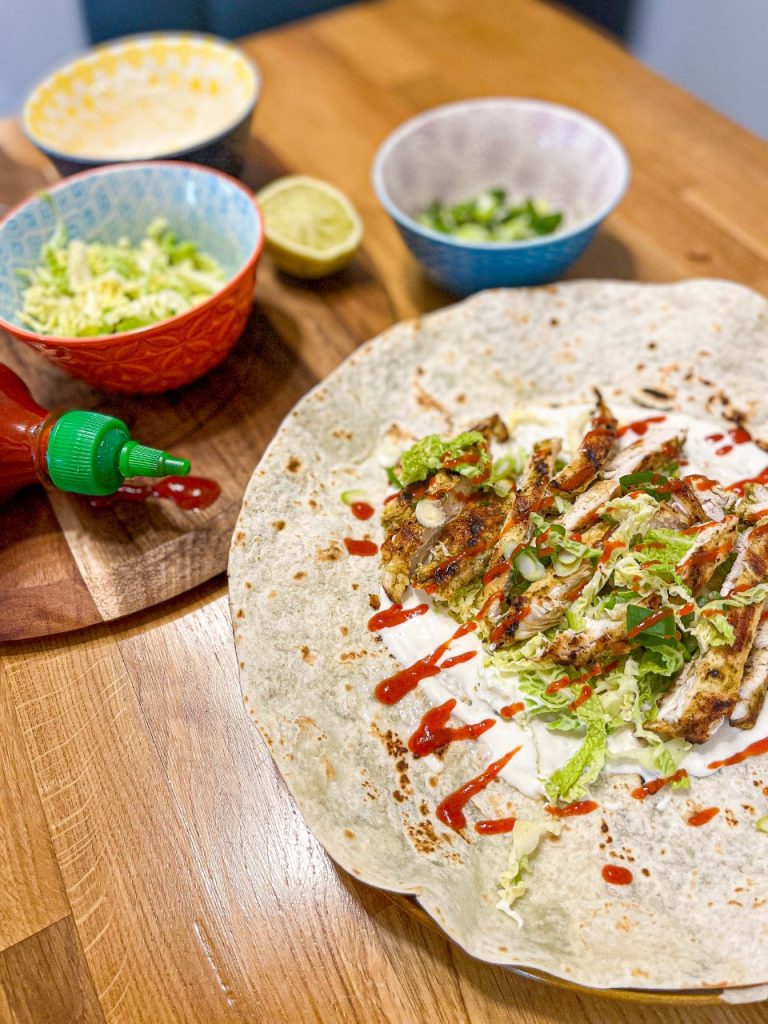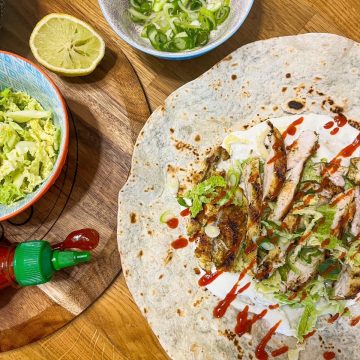 Chicken Shawarma Wrap
Middle Eastern spiced chicken breasts, cooked until charred and piled on flatbreads with lightly pickled cabbage, garlic yoghurt and chilli sauce.
Ingredients  
4

Chicken Breasts

8

Cardamom Pods

Pods opened, seeds ground in a pestle and mortar

1

tbsp

Ground cinnamon, ground ginger, ground coriander

1/2

tsp

Ground nutmeg

Freshly grated is best

1

Lemon

Juiced

3

Garlic cloves

Crushed

4

tbsp

Olive oil

Salt and Pepper
To Serve:
Garlic Yoghurt

Mix approx 250ml plain yoghurt with 1-2 crushed cloves garlic and a tsp salt

Chilli Sauce

(I used Sriracha)

1

Finely shredded sweetheart cabbage

Mix with 1 tbsp white wine vinegar and a tsp salt in a large bowl (optional, but lightly pickles the cabbage)

2

Spring onions

Finely sliced

Wraps or flatbreads
Instructions 
Begin by sandwiching each chicken breast between two sheets of cling film. Using a rolling pin, or a meat hammer, flatten each chicken breast until it has widened and become thinner (it should be even thickness over the whole breast to make an escalope) Remove and discard the cling film. 

Put the chicken breasts in a bowl with the ground cardamon seeds, ground spices, lemon juice, crushed garlic, olive oil and a good grind of salt and pepper. Marinate for as long as possible (up to 24 hours) or at least 30 minutes.

Meanwhile, prepare your toppings. Mix together the garlic, yoghurt and salt to make the garlic yoghurt sauce. Shred the cabbage as thinly as possible and toss with the vinegar and a little salt (this can be left to lightly pickle for a few hours, if you have time). Finely slice the spring onions and add to a serving bowl. Look out the chilli sauce and flatbreads.

To cook the marinated chicken breasts, heat a griddle pan over a high heat until smoking and pre-heat the oven to 200C. Add the chicken breasts into the grill pan, allowing to cook for 2-3 minutes on each side to char nicely. Transfer to an oven for 10 minutes to cook through. Alternatively, if you don't have a griddle pan, simply grill or bake the chicken breasts for 15-20 minutes.

Toast the wraps or flatbreads in a large frying pan for 2 minutes, until warm but not crispy.

Once the chicken is cooked, slice at an angle and serve on the warm flatbreads with the cabbage, spring onions, garlic yoghurt and chilli sauce.