'Nduja Chicken Parmo
'Nduja Chicken Parmo recipe, inspired by the classic takeaway from Teeside in the North East of England. A parmo is a crispy breadcrumb coated chicken breast that is then topped with spicy Italian 'Nduja, creamy bechamel and loads of mozzarella. This Chicken Parmo is served with tomato pasta for full on carbs, but traditionally it is served with garlic sauce.  If garlic sauce is required, serve with this Dominos inspired garlic sauce recipe.
History of the Chicken Parmo
The Chicken Parmo dish was invented in Teeside, England, during WW2 by an Italian Navy chef. He was injured and transferred to a hospital in Teeside. He ended up living and working in the region. He then opened up a restaurant and served chicken parmigiana, the traditional Italian version of this dish.  This developed into the Chicken Parmo which is now enjoyed over the North East of England. 
'Nduja
'Nduja is a spicy Italian spreadable pork sausage from the region of Calabria which is in Southern Italy. The spicy sausage goes really well in this 'Nduja Chicken Parmo. It is also delicious as a pizza topping and in this recipe for Scallops with Butternut Squash Puree and 'Nduja. Make sure to get the real deal, either by buying from an Italian Deli, such as Pasta Plus, in Aberdeen or online. Some of the jarred 'Nduja  has added ingredients which take away from the real flavour. 
TIPS
To make without the Béchamel sauce, try the recipe for 'Nduja Chicken with Mozzarella.
For the breadcrumbs, stale white bread is best, whizzed in a food processor.
Use cheddar, gruyere or parmesan cheese for a different flavour.
Serve the Chicken Parmo with tomato pasta.
Other Recipes To Try
Get in touch
Any queries about this recipe? Get in touch at kerry@documentingmydinner.com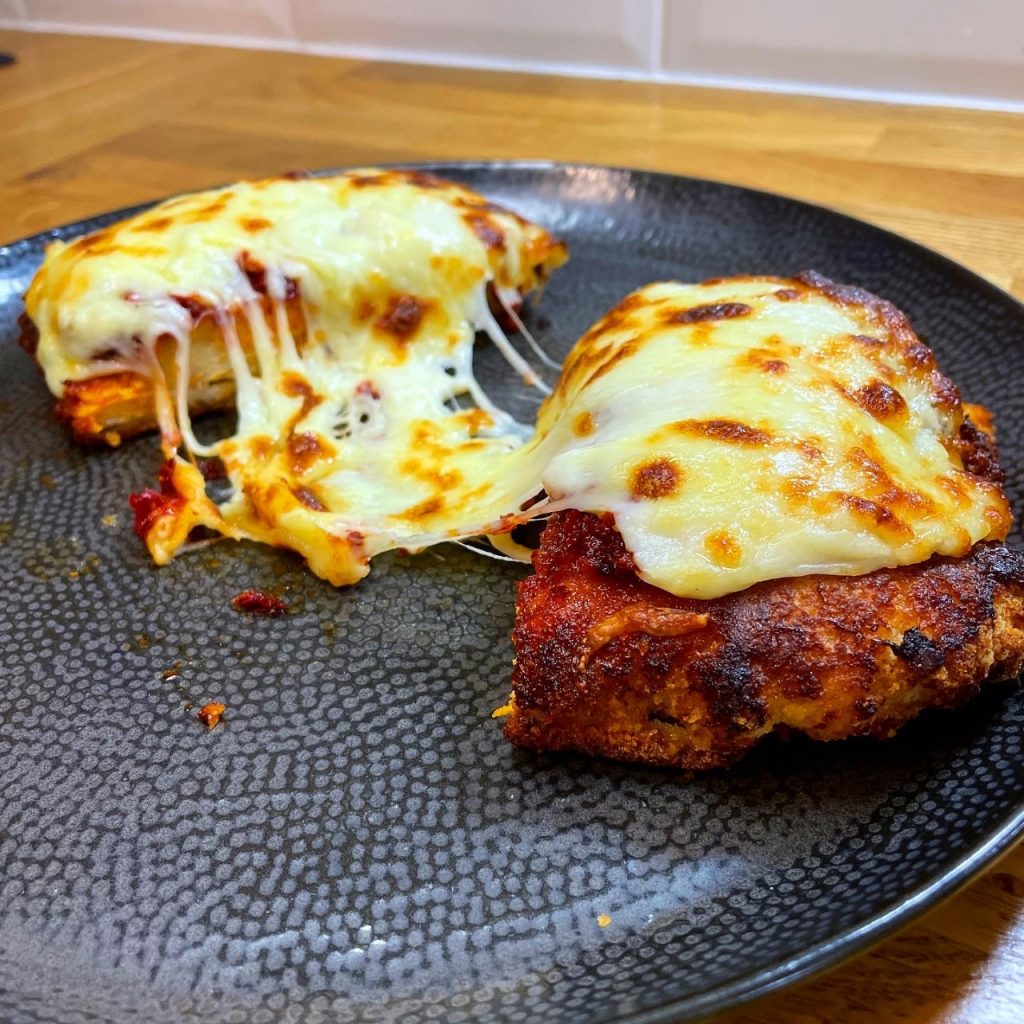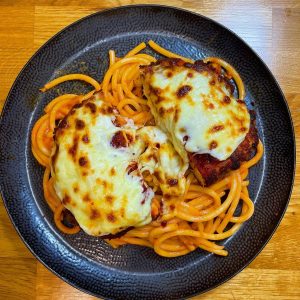 'Nduja Chicken Parmo
'Nduja Chicken Parmo recipe, inspired by the popular Teeside takeaway.
Ingredients  
2

Chicken Breasts

100g

g

Plain flour

2

Eggs

100

g

Breadcrumbs

Salt and Pepper

Sunflower Oil

25

g

Butter

250

ml

Milk

Nutmeg

For grating

100

g

'Nduja

200

g

Mozzarella

grated
Instructions 
Pre-heat the oven to 200C. Use a meat tenderiser to bash out the chicken until it is double the size and thin.

Place 75g of the flour on one plate, a beaten egg in another plate and the breadcrumbs in a third plate.

Dip each flattened chicken breast into the flour, to coat, then the egg and finally the breadcrumbs to create a coating.

Heat a few tbsp of sunflower oil in a large frying pan over a medium heat. Allow the oil to heat up for a minute or so and then add the coated chicken, frying on each side for about 2-3 minutes until golden. Transfer to a wire rack tray and cook in the oven for 15-20 minutes.

Meanwhile, cook the Béchamel sauce. Add 25g butter to a saucepan over a medium heat and stir to melt. Add 25g plain flour and stir for 3-5 minutes. Grate in around a quarter of a nutmeg and stir through. Gradually add the milk and stir until you have a thick, smooth sauce. Season with salt and simmer for five minutes over a low heat. Stir through about 50g of the mozzarella until it melts.

Heat the grill to high. Once the chicken is cooked, spread half of the Béchamel sauce over each chicken breast, top with half of the 'Nduja and then half of the mozzarella cheese. Grill for 5 minutes until bubbly and golden.