Find out everything you need to know about Aberdeen Restaurant Week here.
During the 2018 run of Aberdeen Restaurant Week, Aberdeen Inspired asked me along with several other Aberdeen bloggers including Dinner Stories; Tall Pauls Food Life and Kirsty Jarvie to try and review the restaurants involved! 
I was given three of Aberdeen's finest: Howies, Carmelite and The Pigs Wings. 
 See my full reviews below
HOWIES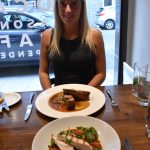 Howies has been a staple in Aberdeen since 1990, serving traditional Scottish meals with a modern twist. If you want somewhere that prides itself on local produce; a beautiful rustic setting and delicious meals then come here. Over our three courses we had the likes of Cullen Skink, Crisped Black Pudding and Pork and Raspberry Drambuie Cheesecake. See my full review here. 
CARMELITE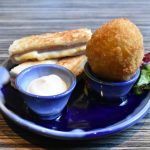 Nestled in the City Centre of Aberdeen, Carmelite Hotel and Bar offers plush, comfortable surroundings; live music and an Aberdeen Restaurant Week menu fit for the biggest of eaters. The huge portions of Carmelite left us with very full bellies. The highlight was the Ham & Egg starter – A crisp coated runny egg served with punchy mustard mayo, cheese & ham toastie fingers and salad. If you are a big eater and looking for good, hearty food head to Carmelite- see my full review here. 
THE PIGS WINGS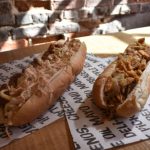 Not to be missed during Aberdeen Restaurant Week is one of Aberdeen's newest venues: The Pigs Wings. As the title suggests, the focus is on pork and chicken here and both can be found in the restaurants signature stuffed sub rolls. They are offering a mountain of food for a £10 lunch and it will guarantee to satisfy. The churros especially cannot be missed, with homemade dulce de leche sauce. A great addition to the local food scene in Aberdeen, see my full review here.