AD Please note this recipe was made in collaboration with Amity Fish Company who provided the fish in return for a recipe.
Creamy Salmon with Garlic, Sundried Tomatoes and Broccoli – I have used delicious salmon fillets from Amity Fish Company in this creamy salmon recipe. If you are in Aberdeen, order fish direct to your door from their website.
I've used broccoli in this salmon recipe, but other greens such as spinach or green beans would also work.
Let me know if you try this recipe out!
Try out my other Salmon Recipes such as Cajun Salmon Pasta and Teriyaki Salmon with Coconut Rice.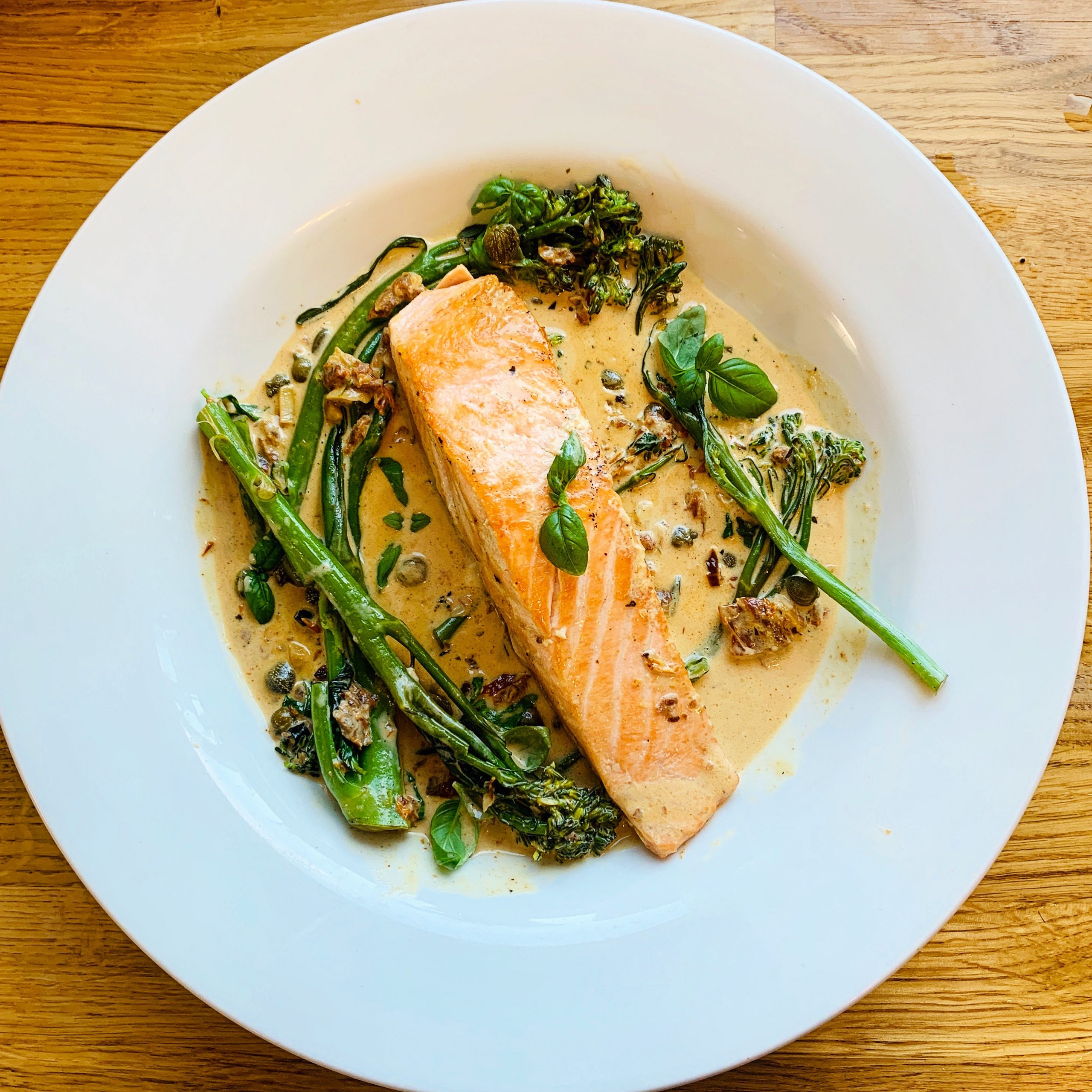 ---
Recipe
Serves 2
Difficulty Level: Rookie 
---
Ingredients:
2 salmon fillets
150g sundried tomatoes, chopped
3 garlic cloves, crushed
2 anchovies
200ml white wine
250ml double cream
50g Parmesan, grated
200g broccoli, green beans or spinach
Bunch of basil leaves, roughly torn
Salt and pepper
Method:
Drizzle a little oil from the sun dried tomato jar into a large frying pan over a medium high heat. Season the salmon with salt and pepper and add the salmon and pan fry for 5 minutes on all sides until golden. They won't be fully cooked, but you will be finishing them off in the sauce.
Remove the salmon from the pan and add the Sun-Dried tomatoes, garlic and anchovies and fry for a minute or so, until the anchovies have broken down.
Meanwhile, cook the broccoli in boiling water or in a steamer, until cooked but still with a bite (about 3-4 minutes)
Add the white wine to the pan of Sun-Dried tomatoes, and simmer until reduced by about half. Add the double cream and the salmon back into the pan. Simmer for about 5 minutes until the creamy sauce has reduced and the salmon has cooked. The best way to test salmon is by using a thermometer. I love my salmon cooked medium rare which should read 51C.
Add the parmesan, basil and cooked broccoli to the pan and stir to combine. Check the seasoning of the sauce and add more salt and pepper if required.
Enjoy your Creamy Salmon with Garlic, Sun-Dried Tomatoes and Broccoli right away!