Tartiflette recipe. Tartiflette is a French dish, usually to be found in the snowy Alps and was actually invented by the makers of Reblochon cheese as a marketing ploy to sell more. It is a potato gratin type dish made with potatoes, bacon, shallots, cream and Reblochen cheese, a soft, washed rind cheese with a creamy, nutty flavour. The richness of the dish is complimented by serving it with gherkins and pickled shallots on the side.
If you enjoyed my Tartiflette recipe, try out my recipe for Butternut Squash Dauphinoise
For more recipes, follow me on Instagram.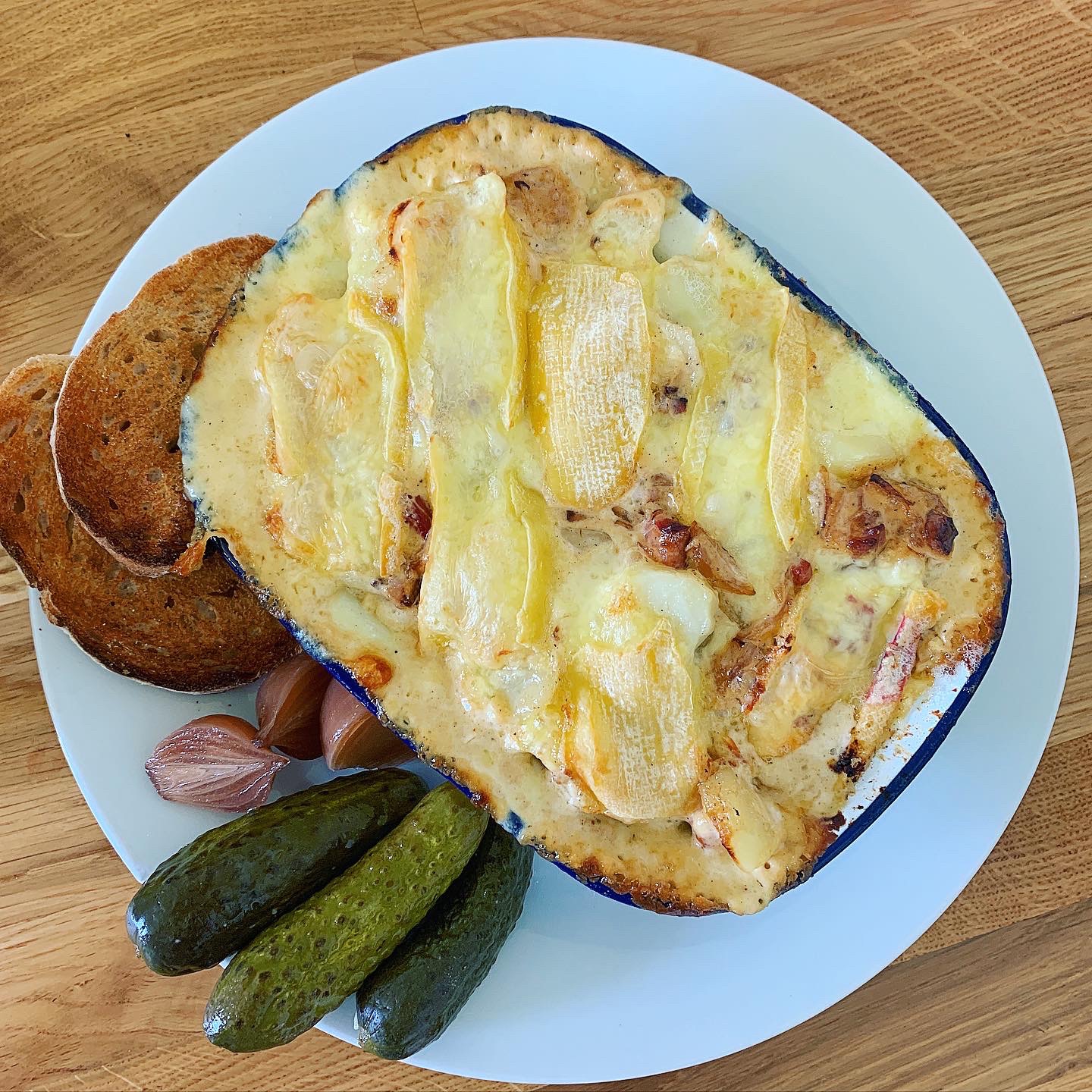 ---
Recipe
Serves 2
Difficulty Level: Rookie
---
Ingredients:
500g waxy baby potatoes
100g smoked bacon lardons
2 shallots or one small onion, finely sliced
2 garlic cloves, crushed
200ml white wine
200ml double cream
220g reblochon cheese
Salt and pepper
Pickles and crusty bread, to serve
Method:
Preheat the oven to 200C. Put the potatoes in a large pan of cold, salted water. Bring to the boil and cook for around 10 minutes, until just cooked. Drain and allow to cool slightly.
Meanwhile, fry the bacon lardons and shallots for 5 minutes over a medium heat until soft and beginning to caramelise.
Add the garlic to the pan of bacon and shallots and cook for one minute more.
Add the white wine to the pan and simmer until reduced by around half.
Turn off the heat, stir in the double cream and season with a little salt and plenty of black pepper.
Slice the reblochon cheese and the potatoes into thick slices. . Layer a gratin dish with the potatoes, then the bacon mixture and then the cheese slices. Keep layering until all the ingredients are used up. Finish with a layer of cheese. Cook in the oven for about 15 minutes until gooey and golden.
Serve the Tartiflette right away with crusty bread and pickles on the side.