Carbonara Risotto recipe. The delicious flavours of a spaghetti carbonara but with risotto rice. Carbonara really is the most comforting food and when done right, tastes amazing. I also have recipes on Documenting My Dinner for Creamy Carbonara, Gnocchi Carbonara and a Scottish take on the dish, Smoked Salmon Carbonara. I used cubed pancetta in this recipe, which worked really well, but if you can get your hands on Guanciale, the traditional bacon used in carbonara, then use it! 
Cured Egg Yolk
The difference with this dish is in the salt cured egg yolk. Using smoked salt, curing the egg yolk firms it up and imparts a smoky, salty flavour to the yolk. The recipe suggests curing for just one hour to keep the yolk runny. However, you could cure it for longer if you'd prefer.  When eating the Carbonara Risotto, cut through the yolk and then stir it through the risotto for the perfect finish.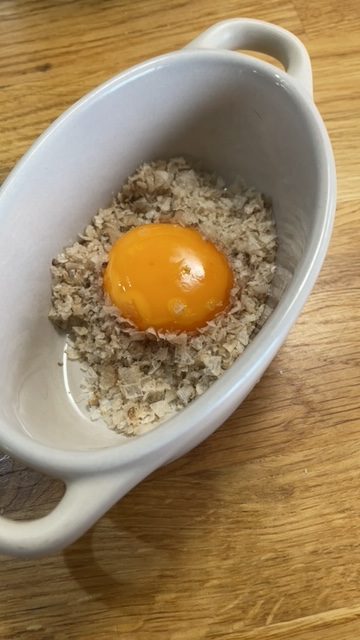 Getting a Risotto Right
Risotto, meaning rice in Italian, is a creamy, rice dish that is usually served as an alternative to pasta. Getting the risotto right takes practice. Underdone and the rice is too hard. Overdone and the rice turns to mush. It is best to source short grain rice such as arborio, baldo or carnaoli for a risotto. These types of italian rice absorb stock well and release starch, creating the creamy texture that risotto is known for. Do not rinse the rice before cooking as it will remove this all important starch and take time to cook the risotto slowly and gradually add the stock. If you cook it too quickly, with too much heat or with too much stock you risk the rice overcooking too quickly before the starch has been released. 
Contact Me
If you have any queries about my Carbonara Risotto recipe or if you want to work with me, then contact me at kerry@documentingmydinner.com or via Instagram.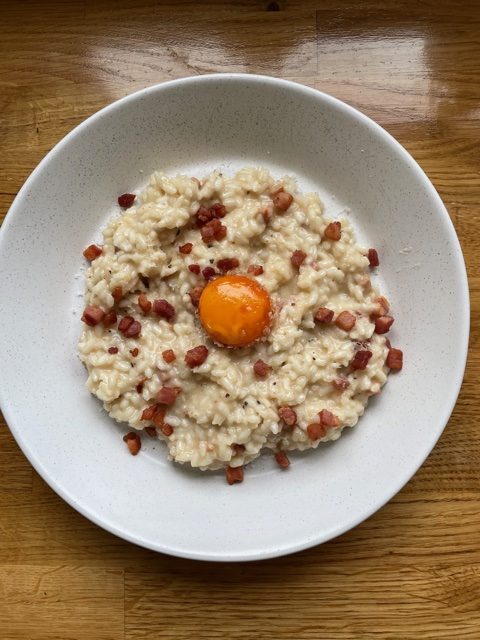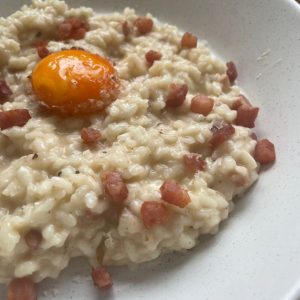 Carbonara Risotto
Carbonara Risotto recipe. Classic flavours of a spaghetti carbonara made into a delicious, creamy risotto.
Ingredients  
200

g

Cubed pancetta

traditionally, Guanciale is used. So use this if you can get your hands on some

3

Garlic cloves

crushed

150

g

Risotto rice

100

ml

White wine

(optional)

500

ml

Ham stock

Or use chicken stock. Keep this warm in a separate saucepan.

50

g

Parmesan

grated, plus extra to serve

2

eggs

yolk only

Smoked salt

I used Maldon but you can just use regular salt if you don't have smoked salt

Black pepper
Instructions 
To make the cured egg yolk, carefully remove the yolks from the whites. The whites can be frozen for a later recipe. Cover the base of a small bowl with a handful of smoked salt. Carefully place the egg yolks on top and sprinkle a little more salt around the yolks. Leave to cure for around one hour. You want egg to still be runny and not solid. If you leave it for over 2 hours, it will likely be solid.

To make the risotto, place a large saute pan over a low heat. Add the pancetta cubes and cook for 10-15 minutes until all of the fat has rendered out of the cubes. Continue frying until crisp and golden. Remove half of the crisp pancetta and drain on kitchen paper.

Increase the heat to medium. Add the crushed garlic cloves and cook for a minute.

Add the risotto rice and stir to coat in the pancetta fat.

Pour in the white wine and bubble until reduced by about half.

Pour in one ladle of hot stock at a time, stirring constantly until the rice has absorbed the stock before each addition. You may not need all the stock to cook the risotto. Try the rice and keep adding stock and stirring, until it is cooked to your liking.

Stir in the grated parmesan and drained pancetta cubes. Taste and season with plenty of black pepper and a little salt, though you may not need salt due to the salitness of the pancetta and parmesan.

Serve the risotto in deep bowls and top with the cured egg yolk.