Gnocchi Carbonara recipe. The classic Italian spaghetti carbonara is given a twist by using potato gnocchi instead of pasta. I've made this recipe even easier by using shop bought gnocchi but you could make your own using my homemade gnocchi recipe in Gnocchi Alla Sorrentina.
Carbonara is a typical Italian dish from Rome using Italian cured meat (traditionally Guanciale), Italian cheese and eggs. It is the perfect comfort food. It is simple to make, but takes a bit of technique to get perfect. The eggs need to be added at the correct time so they cook through for a delicious creamy sauce that doesn't scramble.
If you liked this Carbonara recipe, you might also enjoy my other twist on carbonara, Smoked Salmon Carbonara
If you made this recipe or any of my other recipes, please let me know on Instagram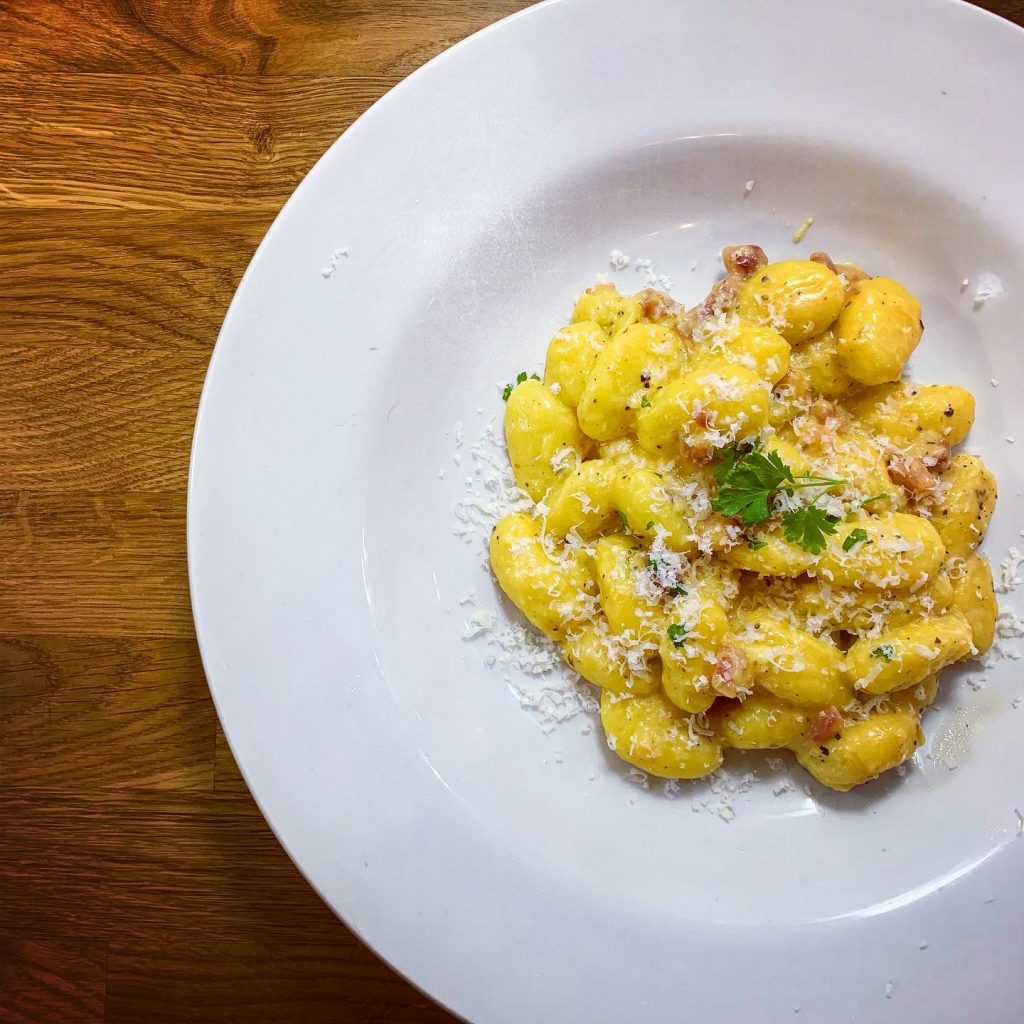 ---
Recipe
Difficulty Level: Rookie
Serves: 2
---
Ingredients:
500g gnocchi
2 eggs and 2 egg yolks
75 parmesan, grated. Plus more to serve
150g cubed pancetta
1 crushed garlic clove
Black pepper and sea salt
Method:
Put the pancetta in a cold pan over a low heat and cook for 10 minutes until the fat has rendered and the pancetta chunks begin to brown. Add the garlic to the pan and cook for one minute. Take the pan off the heat but leave the pancetta and garlic in the pan.
Cook the gnocchi according to packet instructions. It will be ready when the gnocchi floats to the top of the pan.
Whilst the gnocchi is cooking, mix together the eggs, egg yolks, grated Parmesan and a good grinding of black pepper. You shouldn't need salt as the pancetta and cheese are both salty.
When the gnocchi is cooked, remove it from the pan with a slotted spoon into the pancetta pan- keep it off the heat. Coat the gnocchi with the pancetta fat. Then add the egg mixture and stir quickly to allow the heat from the gnocchi to cook the eggs. If the pan was on heat, it would be too hot and the eggs would scramble. If needed, add about half a cup of the gnocchi cooking water to loosen the sauce.
Serve the Carbonara Gnocchi in deep bowls topped with more grated Parmesan. Enjoy!