Chipotle Fish Tacos recipe with Lime and Jalapeño Slaw. Crispy deep fried fish finger goujons in a chipotle flavoured batter, served on tacos, with crunchy lime and jalapeño coleslaw and all topped off with a drizzle of a homemade chipotle sour cream. I love all kinds of tacos as you will see from my various taco recipes on this blog. Eaten by the hand, assembled at the table, they are the best food to serve with company when you want a casual but delicious bite to eat. Serve with margaritas for a taco party!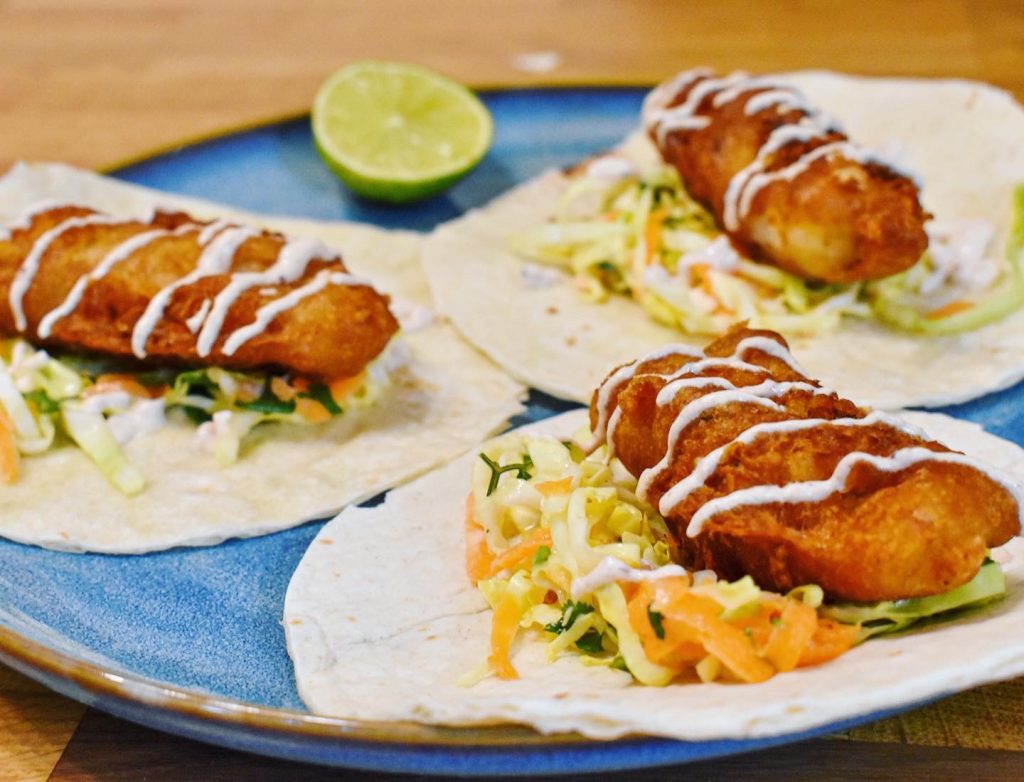 My other taco recipes include Steak Tacos, Coconut Prawn Tacos and Pulled Pork Tacos
This recipe was made in collaboration with Amity Fish Company in who kindly gifted the fish. Amity are a local company who sell top quality seafood from Scotland's shores. They provide delivery service across Aberdeen and nationally over the UK
---
Recipe – Chipotle Fish Tacos
Serves 2
Difficulty level: Home Cook
---
Ingredients:
For the Chipotle Fish Tacos:
2 fillets of white fish (haddock or cod)
2 tablespoons chipotle paste
150g plain flour
1 tablespoon bicarbonate soda
Teaspoon each of cayenne pepper and garlic powder
150ml lager
Salt and pepper
Sunflower oil, for frying
Small flour tortillas (or make your own corn tortillas with my recipe)
For the Lime and Jalapeño Slaw:
1 large carrot, grated
1/4 white or red cabbage, finely shredded
2 spring onions, finely sliced
1 crushed garlic clove
1-2 fresh jalapeños, finely chopped or 1/2 jar of pickled jalapeños, chopped
1 tablespoon of Greek yoghurt or sour cream
Juice of one lime
Salt and pepper
For the chipotle sour cream:
200ml sour cream
1 crushed garlic clove
Tablespoon of chipotle paste
Method:
First made the Lime and Jalapeño Slaw. Add the grated carrot, shredded cabbage, sliced spring onion, crushed garlic and jalapeños to a large bowl. Season with plenty salt and pepper. Add the lime juice, Greek yoghurt and stir to combine. Allow to sit whilst you cook the fish.
Slice the fish fillets lengthways into 2 or 3 finger sized goujons. Place in a bowl with the chipotle paste and a good grind of salt and pepper. Rub the paste into the fish.
In another bowl, add the flour, bicarbonate of soda, cayenne pepper and garlic powder. Stir to combine. Gradually add the beer, whisking, until you have a smooth batter.
Get a large saucepan and fill about 1/2 full with sunflower oil. Heat until it reaches 180C on a thermometer. I highly recommend a kitchen thermometer as an essential piece of kit, but if you don't have one then the oil will be ready when a piece of bread sizzles as soon as it hits the oil but takes 10 seconds to brown nicely.
When the oil is hot, dip the fish goujons into the batter and then straight in the oil. You will probably only want to cook 2-3 at a time or the oil will cool down too quickly. Fry for 3-5 minutes until golden brown and then drain on kitchen paper, seasoning with salt whilst still hot.
Meanwhile, mix together the sour cream, chipotle paste, crushed garlic and a little salt for the drizzle.
Heat the tortillas until warm and then serve each tortilla topped with a handful of the slaw and top with a battered fish goujon. Finish the Chipotle Fish Tacos with a drizzle of the chipotle sour cream.