Easy Truffle Alfredo Pasta
This Easy Truffle Alfredo Pasta combines authentic Italian Alfredo sauce with the addition of truffle indulgence. 
Authentic Alfredo
A truly authentic Alfredo sauce requires just two ingredients: butter and Parmesan cheese. No cream, garlic or flour is required. Cooking pasta in salted water releases starch from the pasta into the water. Combining the starchy pasta cooking water with just butter and cheese makes the silkiest sauce without the need for any cream. This happens by emulsification. Water and fat usually don't mix when poured into a jug. However an emulsion happens when small droplets of one solution (fat based) are dispersed throughout another (water based). Whisking vigorously prevents the oil droplets sticking together and allows the fat and water to emulsify together. The result is a creamy, silky sauce.
How to Make Easy Truffle Alfredo 
For this recipe, begin by cooking pasta in heavily salted water. The water should taste like the sea, as this is the only salt that will be added to the dish. A ladle of the pasta water in another pan starts the sauce, to which you add the butter and Parmesan very gradually whilst stirring constantly. Stir in the pasta to coat in the luscious sauce. This process results in the silkiest, creamiest sauce without the need for any cream. Finally, stir through truffle pate and truffle oil to add a bit of indulgence. The minimalist nature of Alfredo sauce is what makes it the best, just like all of the great Italian dishes, such as Pesto Pasta  or Bucatini alla'Amatriciana. 
Ingredients
As so little ingredients are used, it is important that the highest quality ingredients are sourced for this Truffle Alfredo Pasta. Try buying high quality Italian pasta. More expensive pasta is made using higher quality flour and is often rough in texture, allowing sauces to cling better. Another important ingredient to use is unsalted butter. This recipe uses a lot of butter, so if salted butter is added, it will be too salty. To add even more truffle flavour, try this Truffle Butter. 
Other Recipes To Try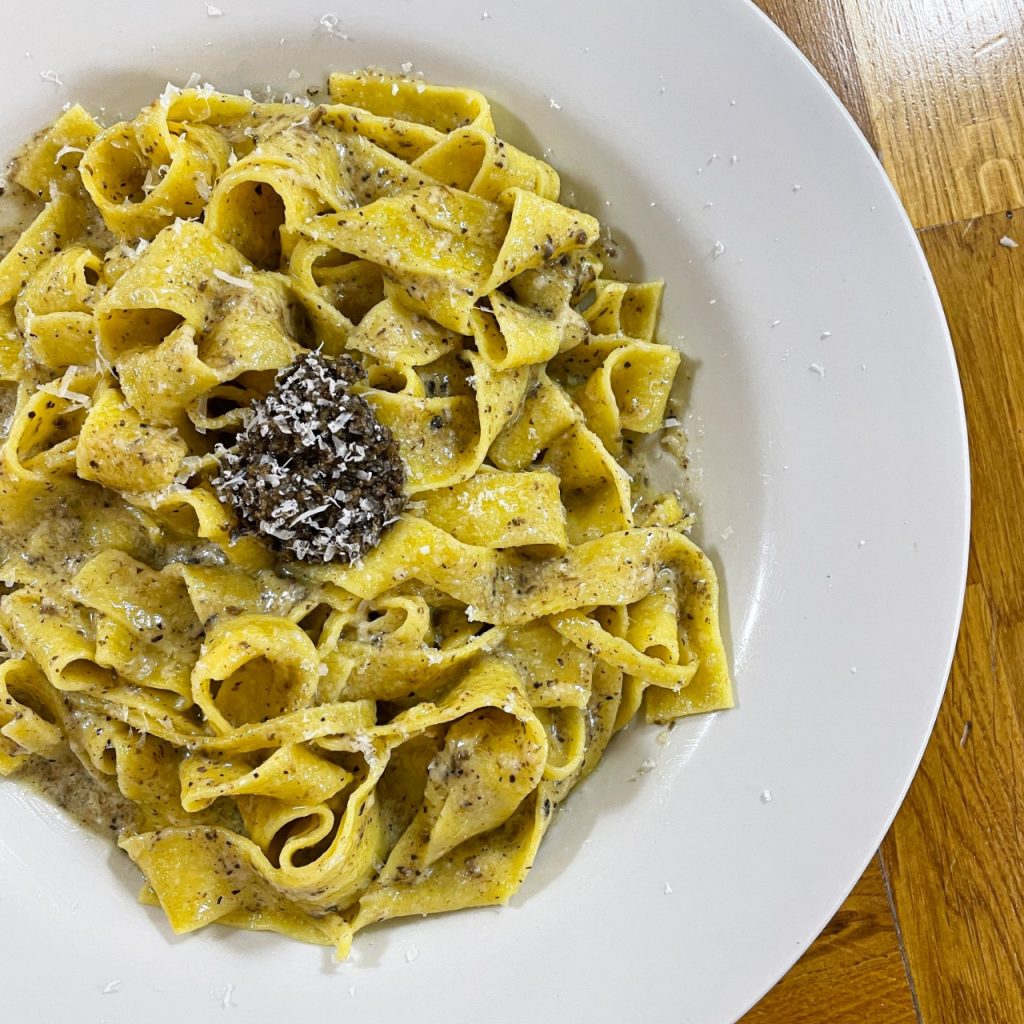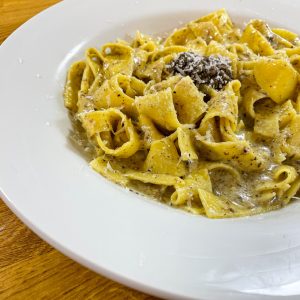 Easy Truffle Alfredo Pasta
This easy pasta recipe combines butter, Parmesan cheese and truffle for an indulgent, creamy dish.
Ingredients  
200

g

Pasta

Pappardelle or tagliatelle work well

100

g

Parmesan Cheese

Remove from the fridge 30 minutes before cooking.

100

g

Unsalted Butter

Truffle Oil

See above for links to buy

Truffle Pate

See above for links to buy
Instructions 
Cook the pasta in heavily salted boiling water according to the packet instructions, reducing the cooking time by a minute.

Grate the Parmesan as finely as possible and cut the butter into small chunks.

Place a saute pan over a medium heat. Add about half a ladle of pasta cooking water to the pan. Gradually add the butter, whisking constantly, until it begins to emulsify. Add the cooked pasta into the sauce pan. Gradually add the parmesan, stirring the pasta constantly, until it creates a smooth and silky sauce. Add more pasta water if needed. Stir through 2 tablespoons of the truffle pate and about a tablespoon of truffle oil. It is unlikely that it will require salt, as the Parmesan is salty and the pasta is seasoned in the water but taste and adjust accordingly.

Serve right away with garlic bread.