Bún Kèn – Vietnamese Fish Curry in Phú Quốc,
Bún Kèn – Vietnamese Fish Curry. This dish originates in the Vietnamese island of Phú Quốc, an undeveloped true taste of South East Asia, off the coast of Cambodia. I visited Phú Quốc in 2018 and tried this dish. We stayed in Daisy Resort and it was stunning.  Phú Quốc was an idyllic island paradise with white sand beaches, tropical vibes and jungles. It was also a food haven, specialising in black pepper and fish sauce. I am still yet to try fish sauce and black pepper with the flavour I had on this dream island. 
Bún Kèn
I tasted this dish one lunchtime after a morning at the beach. The staff in the small eatery on the side of the road spoke no English and there was only photos of the dishes on the menu along with the words 'Fish,' 'Coconut,' 'Noodles' I decided to go for it and I was not disappointed in the rich curry flavoured with lots of lemongrass. I've been thinking of the dish ever since.
The dish is quite unusual and unlike any other dish I'd had as the fish is pulverised and combined in the curry sauce, which makes it more of a fish curry sauce with noodles. However, in this version, a whole cod fillet is served on top too. The key to getting the sauce right is a mixture of sweet, salty and umami flavours and fish sauce is one of the most important elements in this dish. It is such a fresh and healthy dish, as is most Vietnamese dishes, served with rice noodles, herbs and beansprouts. Vietnamese coriander is not essential, but brings a unique flavour as it is hotter than ordinary coriander. I bought a plant from Amazon and it is surviving nicely on the sunny windowsill. 
Finding Bún Kèn
On returning from South East Asia travels, I had this dish in my mind and luckily took a photo of the name of it and posted the dish on Instagram. However, a Google search resulted in no English versions. This meant researching this dish was pretty tricky and involved a lot of Vietnamese translations. Luckily I could still remember the flavour of the dish and had a pretty good idea of how to recreate it. If you have seen the dish in any cookbooks or elsewhere, let me know at kerry@documentingmydinner.com. 
Other Dishes To Try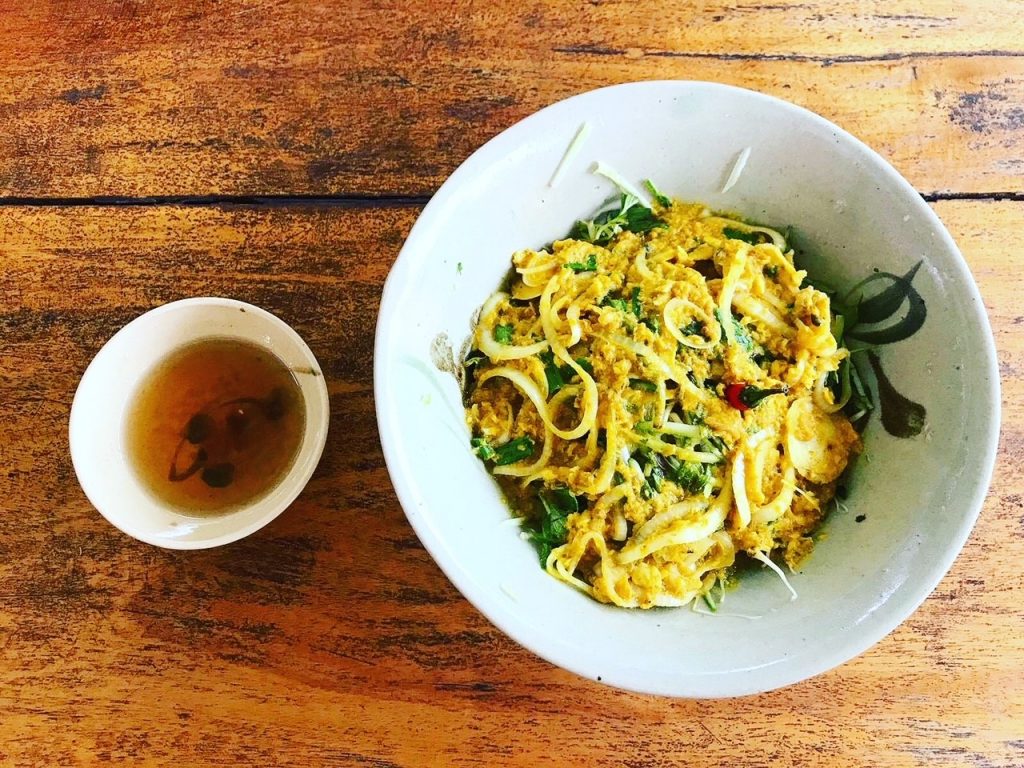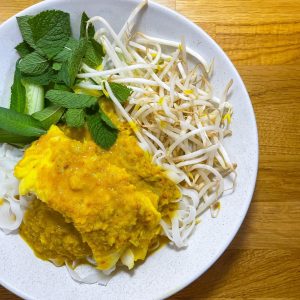 Bún Kèn – Vietnamese Fish Curry
Bún Kèn is a speciality of the Vietnamese island of Phú Quốc and tastes just like paradise.
Ingredients  
3

Cod fillets

or use any firm white fish

500

ml

Chicken stock

6

Garlic cloves

2

Shallots

5

Lemongrass sticks

5

cm

Fresh Turmeric

or use 1 heaped tbsp dried turmeric

1

tbsp

Curry powder

2

tbsp

Caster sugar

400

ml

Coconut milk

50

g

Coconut Cream

4

Lime leaves

2

nests

Rice noodles

I used flat noodles, but you can also use vermicelli

Fish sauce

Mint, Coriander and Vietnamese Coriander

1/4

Cucumber, julienned

Beansprouts

Sunflower oil
Instructions 
Add the chicken stock to a sauce pan and bring to a boil. Once bubbling, add one of the cod fillets and bring the chicken stock back to the boil and then turn off the heat. Remove the fish and set aside – it won't be fully cooked yet. Keep the chicken stock for later.

3 Cod fillets,

500 ml Chicken stock

Place the garlic, fresh turmeric, shallots and lemongrass in a blender or food processor and blitz to a coarse paste.

6 Garlic cloves,

2 Shallots,

5 Lemongrass sticks,

5 cm Fresh Turmeric

Add a tablespoon of sunflower oil to a large frying pan. Add the paste and fry over a medium heat for 3 minutes.

Add the poached fish fillet and stir for 30 seconds. The fish will break up and combine with the paste.

Add a tablespoon of salt, the sugar, curry powder, lime leaves and coconut cream. Stir to combine and then add about 2 ladles of chicken stock. This should make a thin soup.

1 tbsp Curry powder,

2 tbsp Caster sugar,

50 g Coconut Cream,

4 Lime leaves

Add half the coconut milk and a tablespoon of fish sauce. Bring to a simmer. Add the remaining 2 cod fillets and simmer for 5-7 minutes until cooked through, whilst gradually adding the rest of the coconut milk as the sauce thickens. You should be left with two cod fillets cooked through in a creamy broth.

Meanwhile, cook the rice noodles according to the packet instructions.

To your serving bowls, add the julienned cucumber, a handful of beansprouts and a handful of herbs,

Fish sauce,

Mint, Coriander and Vietnamese Coriander,

1/4 Cucumber, julienned,

Beansprouts

Once the noodles and fish are cooked, add a handful of noodles to the serving bowls, topped with one of the cod fillets and then ladle on the curry sauce. Serve with fish sauce for seasoning at the table.