Mozzarella and Basil Stuffed Chicken with Creamy Pesto Sauce
Mozzarella and Basil Stuffed Chicken with Creamy Pesto Sauce recipe. Stuffed chicken is a classic way to serve chicken breast and this recipe is a delicious version. Chicken breasts are flattened and then stuffed with sliced mozzarella and fresh basil leaves. They are then rolled up and covered in Italian ham to seal the mozzarella inside. First the chicken is wrapped in cling film and simmered until cooked through, ensuring all the flavours stay in the chicken breast. Next, the ham exterior is crisped up in a hot pan for extra flavour and texture. Served with a homemade creamy pesto sauce, this is a delicious dinner.
Homemade Pesto
Homemade pesto is an essential in this Mozzarella and Basil Stuffed Chicken recipe. Shop bought pesto is no comparison, and homemade is so much nicer to eat. It can be made as is done this recipe with a pestle and mortar or by using a food processor or blender. Homemade pesto is far better than any that you can buy. It tastes fresher and the seasonings and ingredients can be adjusted to your liking. 
TIPS

Parma ham or bacon could be used instead of prosciutto.
Red Pepper pesto would also work well. Instead of the basil leaves, use a jar of roasted red peppers.
Use cream cheese or creme fraiche instead of the mascarpone.
If asparagus and courgette are out of season, serve with any other green vegetable.
Would go well with Best Roast Potatoes
Get In Touch
If you have questions about this recipe, or if you want to work together, then contact me at kerry@documentingmydinner.com or via Instagram.
Other Recipes To Try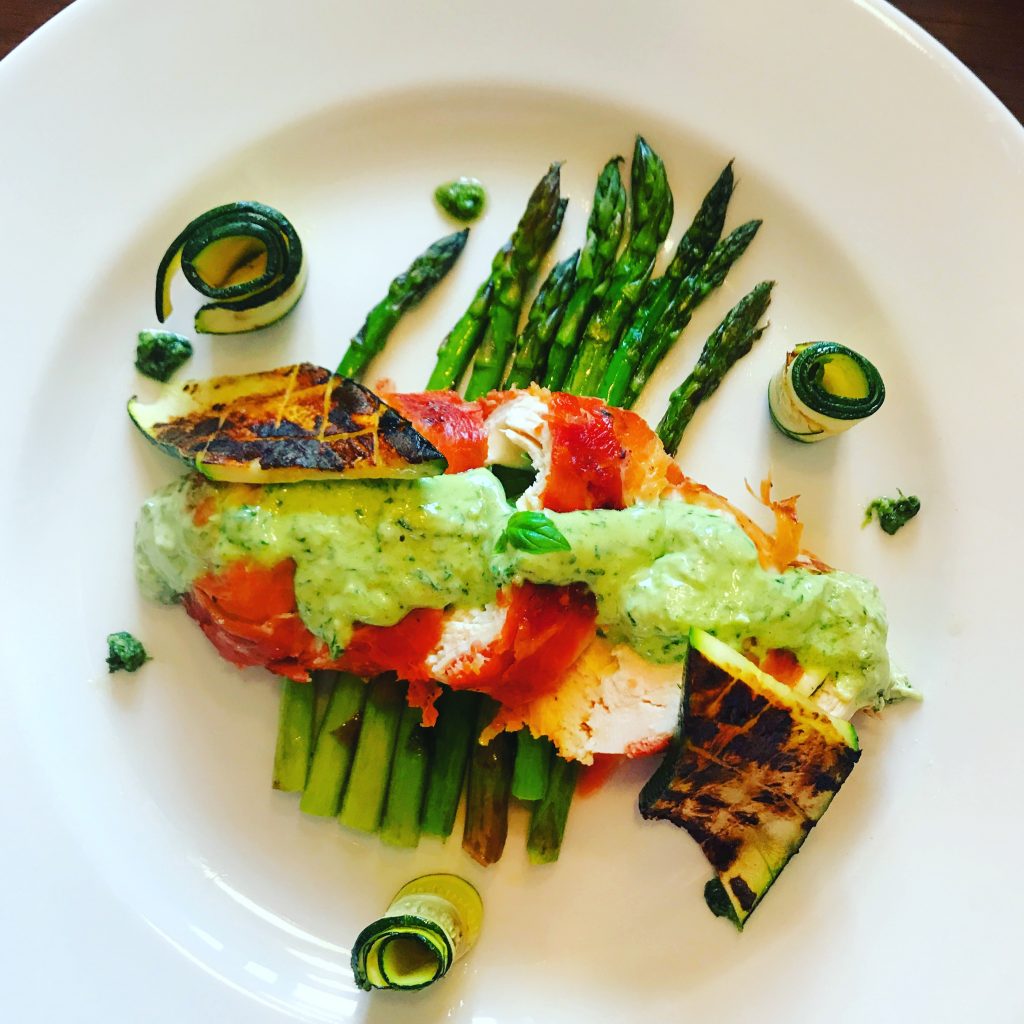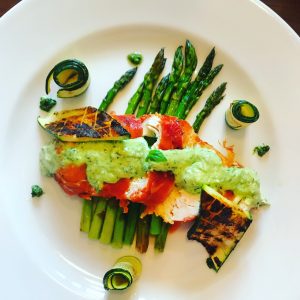 Mozzarella Stuffed Chicken with Creamy Pesto Sauce.
Chicken breast stuffed with mozzarella and basil and wrapped in ham. Served with a creamy basil pesto sauce.
Ingredients  
2

Chicken Breasts

4

Slices

of Prosciutto

Ball of Mozzarella

2

Packets of Basil

Small Handful of Pine Nuts

1

Garlic Clove

crushed

Large handful of Parmesan

150

g

of Mascarpone

around half a tub

Splash of milk

optional

Packet of Asparagus

around 18 spears

1

Courgette

Olive Oil

Salt & Pepper
Instructions 
Place the chicken breasts in between two sheets of cling film. Using a rolling pin, roll the chicken breasts until flattened out. They should be the same thickness all over, around 1cm. Season with salt and pepper

Slice the mozzarella into thick slices. Place along the centre of each chicken breast, add 5 basil leaves and roll the chicken breasts up into a sausage shape, tucking in the ends. Wrap the chicken in prosciutto. Be sure to roll as tight as you can at this stage so the chicken stays together.

Now wrap the chicken in clingfilm. The best way to do it is to place the chicken sausage at the edge of a square of clingfilm and roll it up, ensuring to keep it tight. Twist the ends of the cling film very tightly and tie with some string. Ensure that there are no gaps or holes. Place the chicken in the fridge for 30 minutes to firm up.

Meanwhile, make the Creamy Pesto Sauce. Put the garlic clove and a pinch of salt in a a pestle and mortar. Bash until it is a paste. Add the basil, pine nuts and parmesan and bash until it has broken down. Taste and adjust according to your preference, adding more of any ingredient. Once it is to your taste, stir in around 2 tablespoons of olive oil.Mix the pesto with the mascarpone to make a creamy sauce, adding a splash of milk if needed to loosen the sauce. Warm in a small pan over a low heat, being careful not to over heat it.

Bring a pan of water to a gentle simmer. It is important that the water is not boiling or the chicken will dry out before being cooked through. Add the chicken ballotine and simmer for 20-25 minutes depending on the size of the chicken breast.

Heat a griddle pan to a high heat. Slice half the courgette lengthways very thinly using a mandolin or sharp knife. Slice the rest into thicker slices, scoring a cross pattern into the flesh. Brush the asparagus and courgette pieces with a little oil and season with salt and pepper.

Cook the Asparagus on the griddle for around 5 minutes. Cook the thicker courgette pieces for 3 minutes each side until charred and the thin slices for 1 minute each side.

When the chicken is cooked, heat a frying pan on a high heat. Remove the chicken from the cling film. Fry the chicken in the pan in a little oil until the prosciutto is crisp. Allow the chicken to rest for a few minute and then slice into thick rounds.

Arrange the vegetables on the plate, top with the sliced chicken and pour over the creamy pesto sauce.