Fillet Steak with Blue Cheese Dauphinoise, Caramelised Onion Puree, Mushroom Madeira Sauce and Leeks. This fillet steak recipe is warming and comforting. It is perfect for those colder evenings as it is rich and full of flavour. Dauphinoise potatoes feature a lot on this page and if you like them as much as I do, you might want to try out my other recipes for Whisky Neep Dauphinoise, Butternut Squash Dauphinoise or , Classic Potato Dauphinoise.
Contact Me
If you have queries about my recipe for Fillet Steak with Blue Cheese Dauphinoise, or any of my other recipes, then contact me at kerry@documentingmydinner.com or via Instagram.
HOW TO COOK PERFECT FILLET STEAK- timings based on a 1.5 inch thick steak
First, leave the steak out of the fridge for at least 30 minutes to allow it to come to room temperature. This ensures it cooks evenly and allows it to remain very tender as there is not a sudden surge of temperature which can toughen the steak up.
Coat the steak with olive oil, salt and pepper.
Heat a frying pan over a high heat until it is very hot and smoking.
Put the steak in the pan and leave it alone for around a minute- do not be tempted to move it around as you want the steak to form a good crust. 
Turn over and do the same on the other side.
Put the heat down to a medium high heat. 
If you like a blue steak, this will be enough. To cook the steak rare, cook for another minute on each side, turning over every minute. For medium rare, cook for another 2 minutes each side and for medium cook for another 3 minutes on each side.
Once you start cooking steak more, you will understand how done the steak is by touch. This guide from BBC Good Food explains this well. 
Remove the steak from the pan and wrap in tin foil, leaving to rest for at least half the cooking time.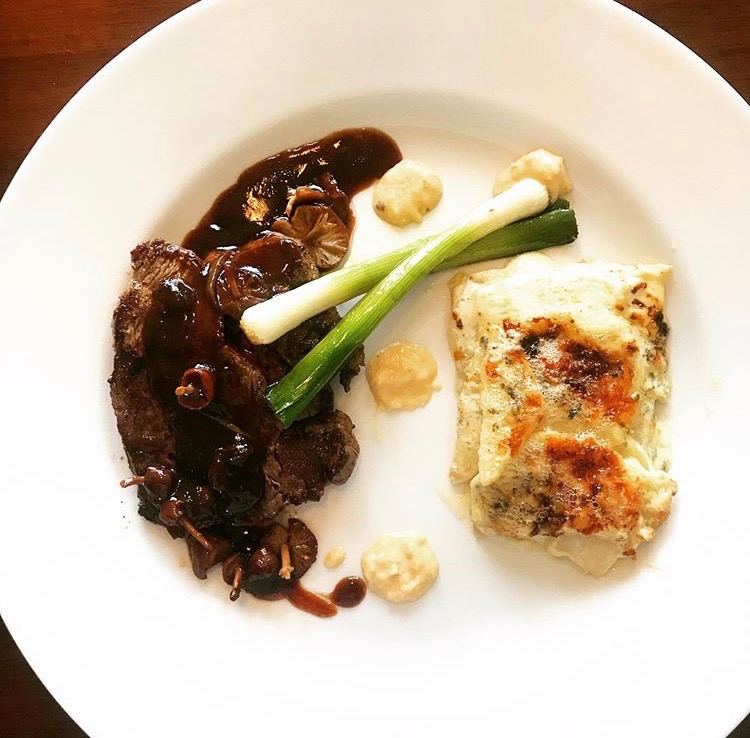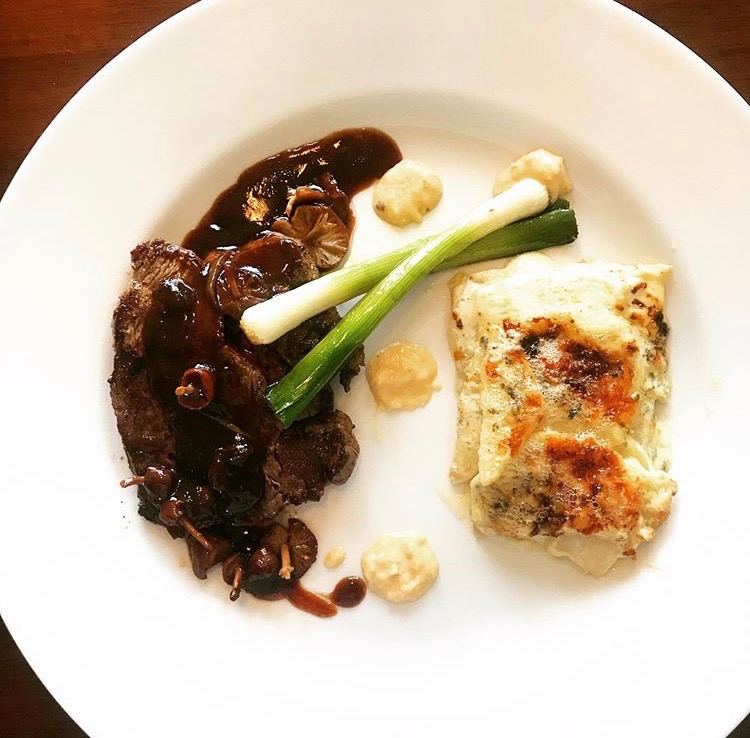 Fillet Steak with Blue Cheese Dauphinoise
Fillet Steak with Blue Cheese Dauphinoise served with a rich mushroom maderia sauce, creamy carameslised onion puree and baby leeks.
Ingredients  
2

Fillet Steaks

5

Large potatoes

50

g

Blue cheese

I used stilton, but most would work

250

ml

Double cream

1

Onion

sliced

1

tablespoon

Sugar

200

ml

Chicken stock

200

ml

Beef stock

100

g

Wild mushrooms

1

Stick of celery

roughly chopped

6

cloves

Garlic unpeeled

unpeeled but lightly crushed with a knife

1

Sprig of rosemary

100

ml

Madeira

1

tbsp

Balsamic vinegar

2

Baby leeks

Or use one leek
Instructions 
Heat the oven to 150C. Put half the onion, the garlic, the rosemary and the celery in a roasting tray and roast for around 20-25 minutes. Add half the wild mushrooms and roast for a further 5 minutes.

Meanwhile, prepare the dauphinoise. Slice the potatoes very thinly or use a mandolin. In a baking dish, place a layer of potatoes, crumble some cheese, pour over a little cream and season with salt and pepper. Continue until you reach the top.

Remove the vegetables from the oven and increase the temperature to 180C. Put the dauphinoise potatoes in the oven for around 25-30 minutes until the potatoes are cooked through and the top is browned and crispy.

Fry the remaining onion in a little olive oil over a medium heat for 1 minute. Add the sugar and reduce the heat to low, stirring now and again until soft and caramelised. Add 100ml of chicken stock and 2 tablespoons of double cream and simmer until thick. Leave to cool before blitzing with a hand blender into a puree.

Put the vegetables from the roasting tray in a pan with the madeira and balsamic vinegar. Simmer on a medium heat until reduced by around half. Add the remaining chicken stock and the beef stock and simmer until reduced to a syrupy sauce.

Cook the steak according to the instructions above, to your liking. Fry the rest of the mushrooms in the pan for a couple of minutes until soft. Take the potatoes out the oven.

For the leeks, cut in half and put in a dry pan on a medium high heat cut side down for 1 minute. Add 50ml of water and a knob of butter and cook on a medium heat until soft, about five minutes.

Serve a portion of potatoes on a plate. Dot some puree around the plate, place the leeks on top and serve the steak topped with the madeira sauce and fried mushrooms. Enjoy!