Sizzling Teriyaki Steak recipe. Steak slices are flash fried before being tossed in a homemade sticky teriyaki sauce with peppers. Topped with sesame seeds and spring onions, this stir fry dish is perfect served with some rice or noodles – try out my noodles recipe as a side dish!
If you liked my Sizzling Teriyaki Steak recipe then try out my Steak Bulgogi – Wagamama style recipe!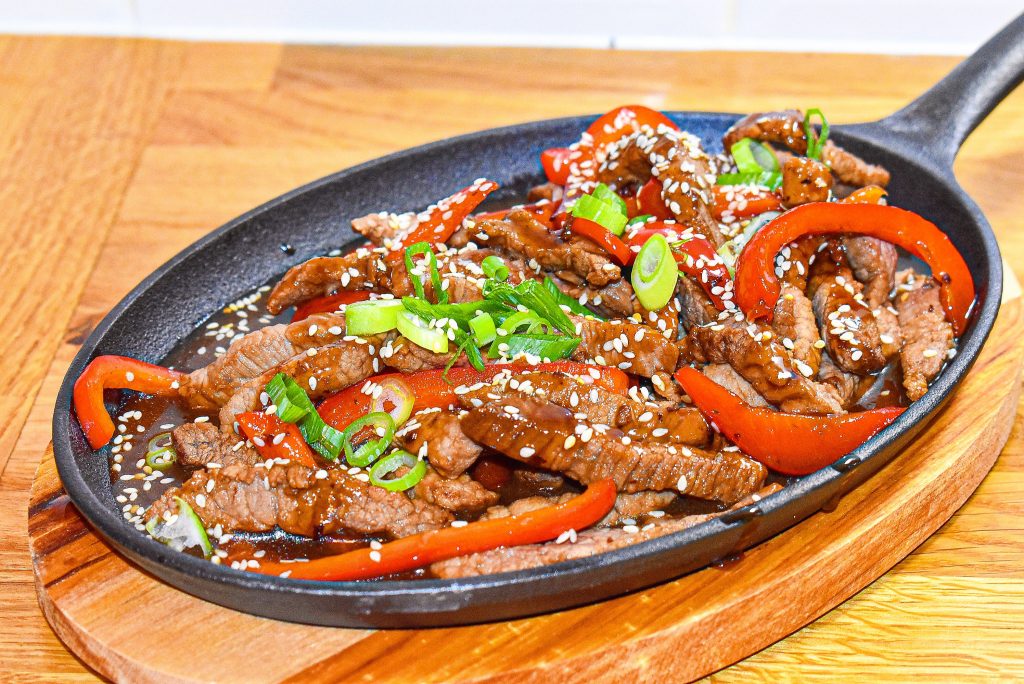 ---
Recipe
Serves 2
Difficulty Level: Rookie
---
Ingredients:
2 rib eye steaks, finely sliced across the grain
1 red pepper, finely sliced
100ml light soy sauce
100ml mirin
3 garlic cloves, grated
4 tablespoons sake
50g sugar
2 tablespoons cornflour
Sesame oil
2 spring onions, finely sliced
Sesame seeds, for serving
Method:
Get two frying pans out- one for the steak and one for the teriyaki sauce.
Add the soy sauce, mirin, garlic cloves, sake and sugar to one of the pans. Heat over a low heat until the sugar has dissolved. Turn up the heat to a simmer. Mix together the cornflour with about 2 tablespoons water and add this to the sauce. Bubble for 8-10 minutes until thick and saucy.
Meanwhile, heat the pan for the steak over a high heat. Drizzle in a little sesame oil and heat. Add the sliced steak and peppers and stir fry for just a couple minutes until nicely browned. Add the sauce into the steak pan and sizzle for 30 seconds just to combine.
Serve the Sizzling Teriyaki Steak on a platter topped with sliced spring onions and sesame seeds. Serve with rice, noodles or greens. Enjoy!