Langoustine Scampi recipe served with homemade Pea Purée and Tartare Sauce. Did you know that good quality, bought scampi is made with langoustine tails? Unfortunately, a lot of the lower quality scampi is actually produced with a mixture of small shellfish though, so as always it is better to make your own.
I was kindly gifted some Langoustine Tails from Amity Fish Company which I used in this recipe. Langoustines are sweet, soft and probably can be described as tasting somewhere between prawn and lobster. I found the most difficult part of this recipe is removing the langoustine shells, but the guys at Amity actually sell them already shelled if you don't fancy doing it yourself. However, if you do buy the langoustine in shells, the shells can be used to make a delicious fish stock. I have served my Langoustine Scampi with a pea purée and homemade tartare sauce and like this it would be great as a starter, but serve with chips for a main meal too!
If you liked my Langoustine Scampi recipe then you might like my recipe for Monkfish Scampi, Truffle & Parmesan Crispy Potatoes, Lemon & Truffle Mayonnaise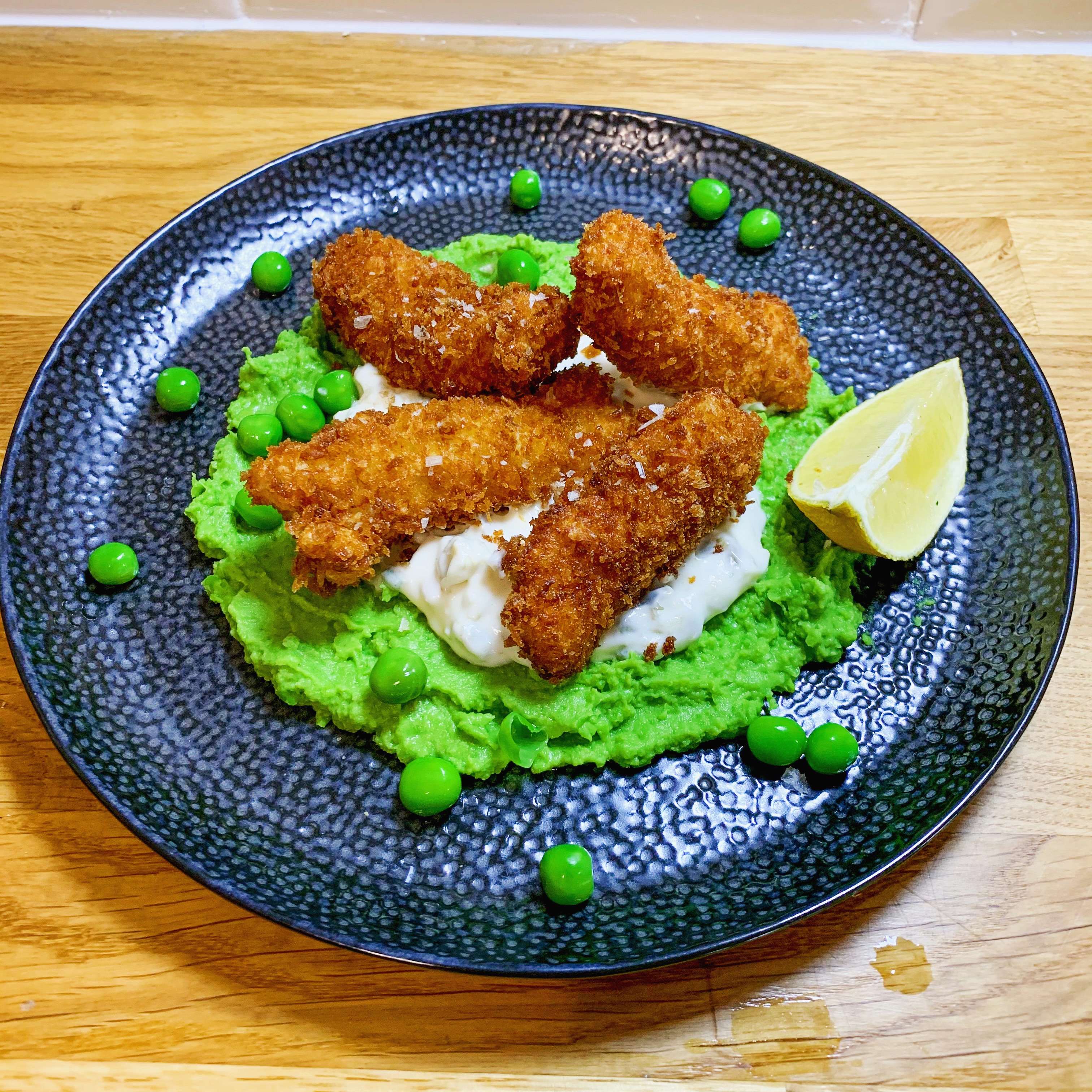 ---
Recipe
Serves 2
Difficulty Level: Top Chef
---
Ingredients:
For the Langoustine Scampi:
10 langoustine tails
About 50g plain flour
1 egg, beaten
A large handful of panko breadcrumbs
Salt and white pepper
For the tartare sauce:
6 tablespoons mayonnaise
Tablespoon each of capers, chopped gherkins, chopped shallot and chopped parsley
1 lemon, zest grated and juiced
Teaspoon of Dijon mustard
Salt and white pepper
For the Pea Puree
200g frozen peas
Tablespoon of the tartare sauce
1/2 lemon, juiced
Salt and pepper
Method:
Start by de-shelling the langoustines. Bring a pot of water to the boil and add the langoustines. Blanch for 20 seconds and then transfer into a bowl of ice cold water. This allows the shell to begin to peel away from the langoustine.
Then carefully use a pair of scissors to cut along the back. The shell should easily peel away but be careful not to damage the langoustine.
When you have de-shelled all of the langoustines, put three plates on the worktop. Put the flour on one and season with salt and white pepper. Put the beaten egg on the second plate and the panko breadcrumbs in the third.
Now make the sauces. For the tartare sauce, mix together all of the ingredients in a bowl and season with a little salt and pepper. Taste and adjust to your liking.
For the pea purée, cook the peas in boiling salted water until cooked and soft. Retain around a handful of peas for garnish and put the rest in a blender and blitz to a purée. Add the tablespoon of tartare sauce and the lemon juice. Blitz again, taste and season.
Pour sunflower oil into a large saucepan around a third full. Heat to 180C. Add the Langoustine Scampi and fry for about 2 minutes until golden brown. Drain on kitchen paper.
Serve the Langoustine Scampi on top of the pea purée and tartare sauce. Enjoy!