Butternut Squash Risotto with Sage and Mascarpone
Butternut Squash Risotto with Sage and Mascarpone recipe. A delicious risotto flavoured with sweet squash and creamy mascarpone, served with crispy sage and seeds.
The Recipe
Creamy, rich and comforting, this Butternut Squash Risotto recipe is perfect for a cold autumnal evening and could be made with pumpkin instead of butternut squash when in season. The recipe contains both pureed squash and roasted squash for double the flavour and texture.
Start by making a squash puree by steaming squash until soft and then blitzing to a smooth puree. Next, roast butternut squash cubes until soft, caramelised and sweet. Cook the risotto by frying shallots in butter, adding risotto rice and stirring to coat in butter. Add wine and reduce to concentrate the flavour. Heat a pan of stock and add a ladle to the rice pan gradually, stirring constantly until the rice is cooked and is creamy. Finish off the risotto by stirring through the squash puree, mascarpone and Parmesan. The risotto should now be left to stand for a few minutes, whilst the crispy toppings are cooked. Crisp up sage leaves and pine nuts in some oil until browned. Add to risotto bowls, top with the pine nuts, sage, roasted squash cubes and dots of mascarpone. Serve right away.
I also used the squash puree from this recipe in my recipe for Scallops with Butternut Squash Purée. I like the mixture of flavour and texture using squash cooked two ways. The purée flavours every inch of the risotto and the roasted chunks bring a richer flavour to the topping. The addition of mascarpone just elevates this risotto to be extra creamy and indulgent. If you make this or any of my other recipes, please let me know what you thought over on my Instagram .
Other Recipes to Try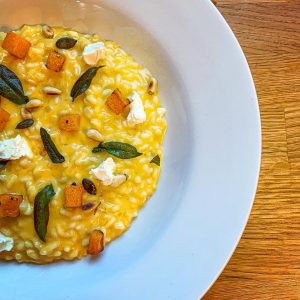 Butternut Squash, Sage and Mascarpone Risotto Recipe
Butternut Squash, Sage and Mascarpone Risotto recipe. Creamy, rich and comforting, this risotto recipe is perfect for a cold autumnal evening
Ingredients  
1

Butternut squash

peeled and chopped into one inch cubes

2

Shallots

finely chopped

4

Garlic cloves

finely chopped

400

ml

white wine

200

g

Risotto rice

600

ml

Vegetable or chicken stock

2

heaped tbsp

Mascarpone

20

g

Grated Parmesan

15

Fresh sage leaves

Pumpkin seeds and pine nuts

for serving

Butter

Olive oil

Salt and white pepper
Instructions 
Put about half of the chopped butternut squash in a bowl with 100ml boiling water and a grinding of salt. Cover the bowl with cling film, pierce a few holes and cook in the microwave for 6-8 minutes until really soft.

Drain the butternut squash and add to a blender (I used a nutribullet) with some salt and pepper. Blitz to a purée.

Heat the oven to 240C. Finely chop half of the sage leaves and toss with the remaining chopped squash along with a drizzle of olive oil. Season with salt and pepper and roast for about 25 minutes until soft and caramelised.

Melt a tablespoon butter in a large frying pan. Add the chopped shallots and a sprinkle of salt and cook gently for 10 minutes on a low-medium heat until soft but not coloured. Add the garlic and cook for a minute more.

Add the rice to the pan and stir to coat in the onions, garlic and butter for a minute or so.

Pour in the wine, bring to a simmer and reduce by about half.

Keep the stock hot in a pan and add around a ladle of stock at a time to the risotto, stirring constantly. You might not need all of the stock, but you are aiming for cooked but not stodgy and a creamy consistency.

Stir through the puréed squash, Parmesan and Mascarpone. Taste and season with salt and about half a teaspoon of ground white pepper. Stir once more and then turn off the heat and allow to sit for five minutes before serving.

Toast around two tablespoons of pine nuts in a dry pan until just beginning to colour. Remove and put to the side for garnishing. Add a drizzle of oil to the pan and add the sage leaves. Fry on a high heat for a minute or so until crisp. Drain on kitchen paper.

Serve the risotto in bowls topped with the roasted squash cubes, the toasted pine nuts, crispy sage leaves, a sprinkle of pumpkin seeds and some dollops of mascarpone. Enjoy!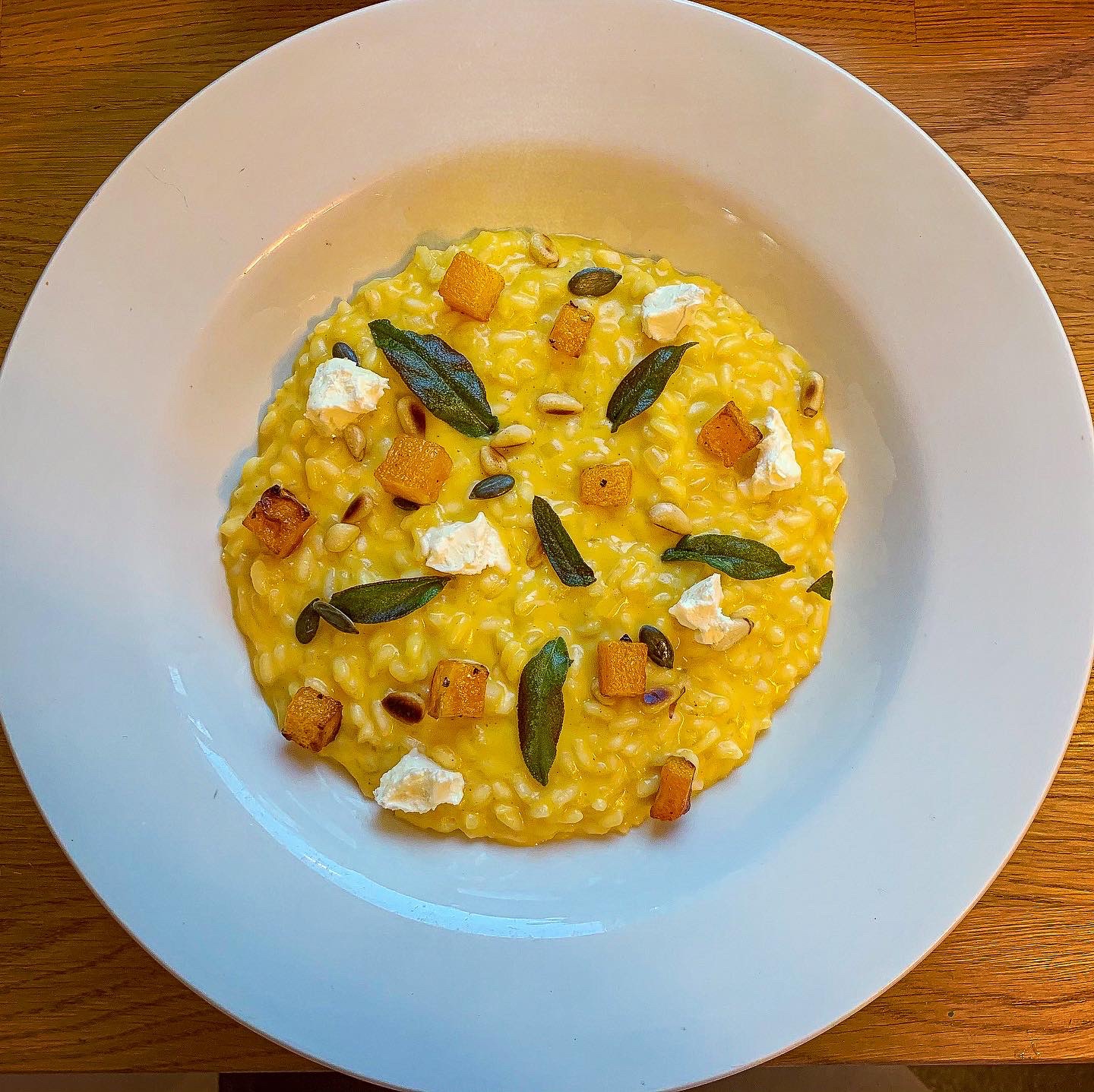 ---